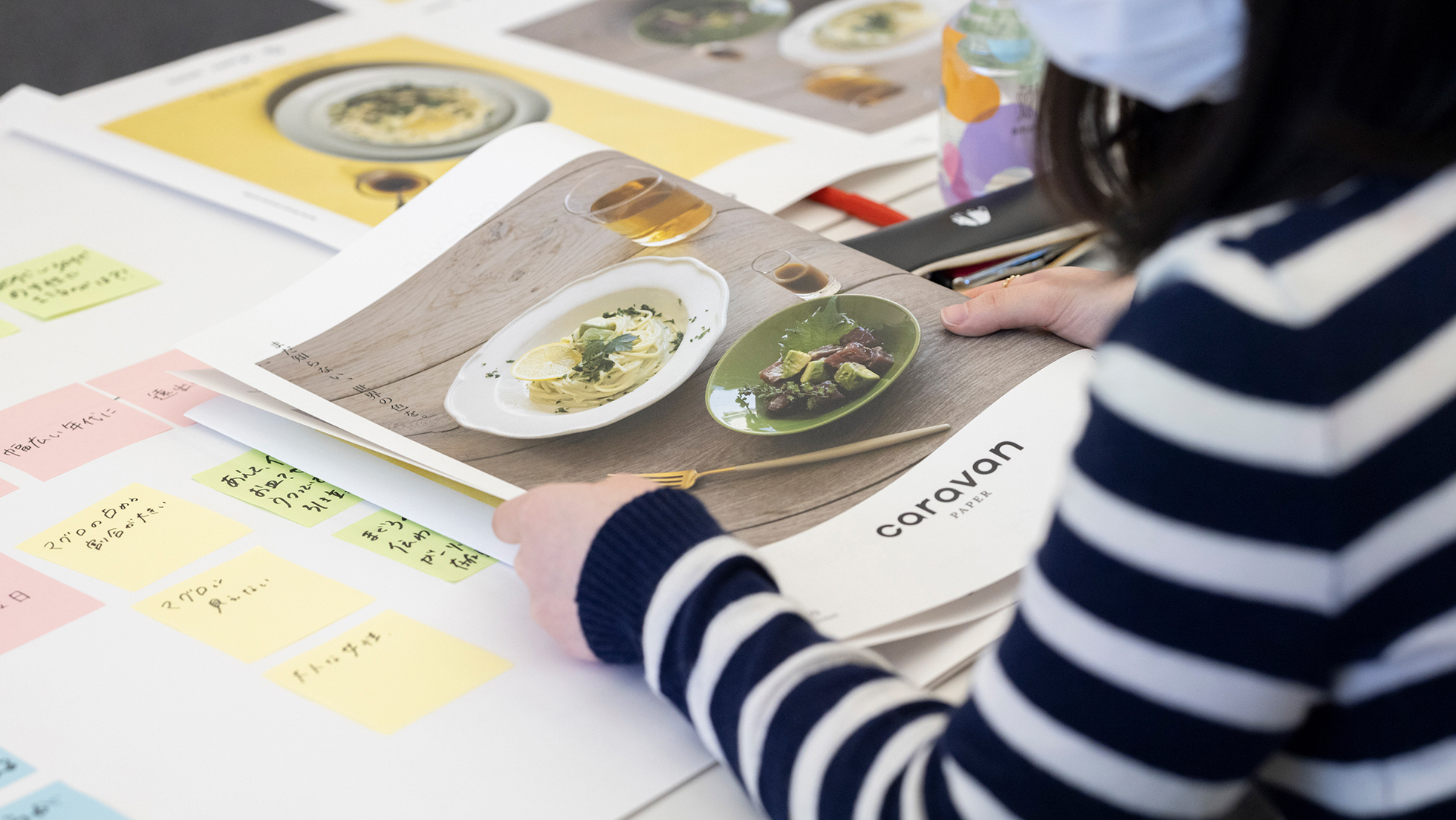 We recently shared an article on caravan entitled "Running Out of Tuna? How Tuna Farming is Changing the Future Landscape of Marine Resources" about Sojitz Tuna Farm Takashima, a tuna farming operation located on one of the outlying islands of Nagasaki Prefecture. We encourage you to give it a read and learn more about Sojitz Tuna Farm Takashima's honest, conscientious approach to farming. One group working to help spread the word about tuna aquaculture is the students of Kyoritsu Women's University. These students are currently involved in a public relations project that was born from an industry-academia partnership between Sojitz and Kyoritsu. In order to amplify the reach of the students' project, we held a collaborative workshop with the caravan creative team and the students of Kyoritsu Women's University.
Text_Keisuke Kimura
Photograph_Kaoru Yamada
Edit_Shota Kato
A year focused on Takashima Bluefin Tuna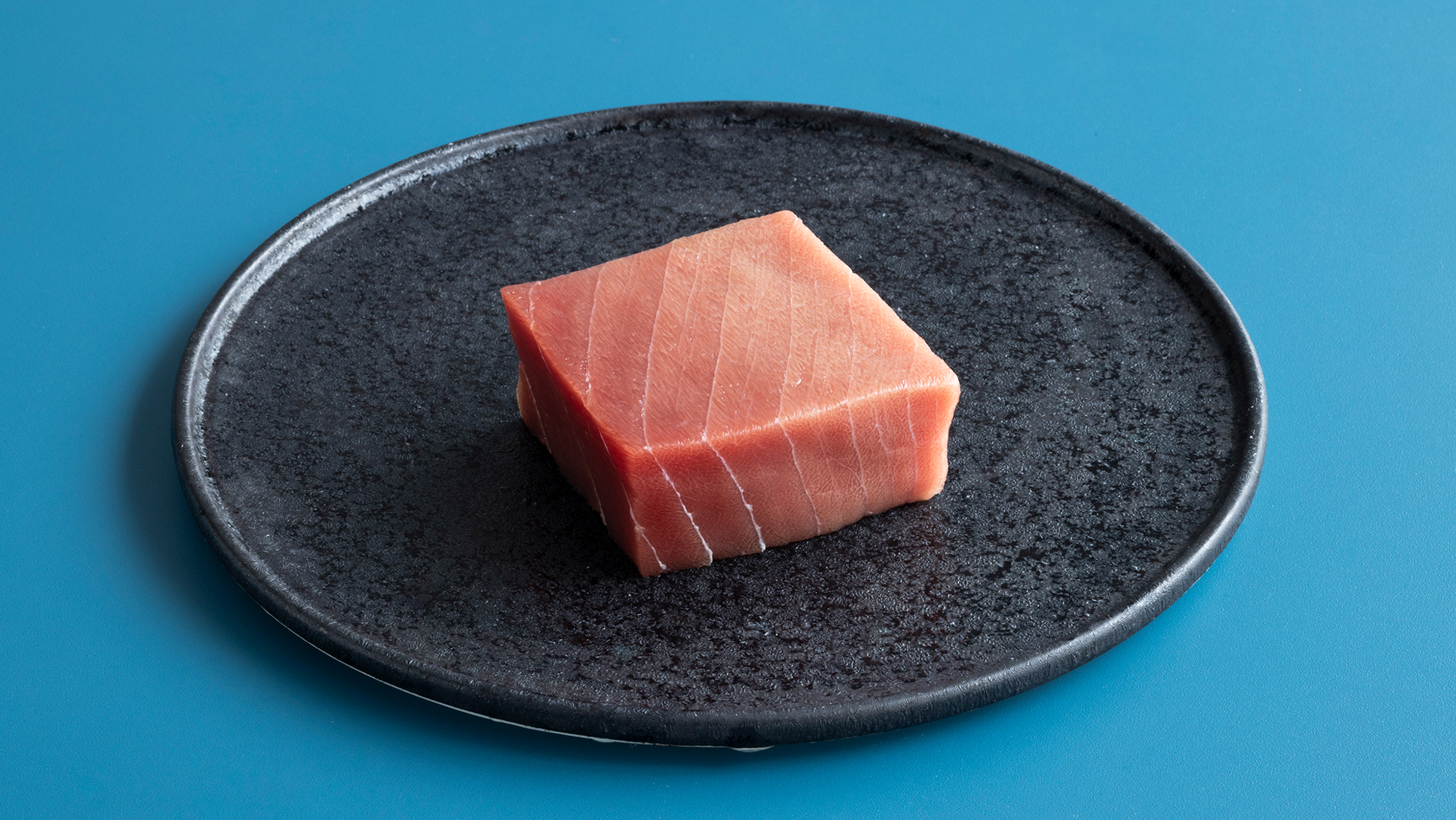 Sojitz Tuna Farm Takashima formed an industry-academia partnership with Kyoritsu Women's University in May 2021 with the aim of raising the public profile of its farmed tuna. The university students are relying on their unique tastes as members of Gen Z to develop recipes featuring Takashima Bluefin Tuna and brainstorm new ways to bring attention to farmed tuna on social media. The project has included workshops for furthering the students' understanding of tuna farming practices as well as a range of other events and initiatives.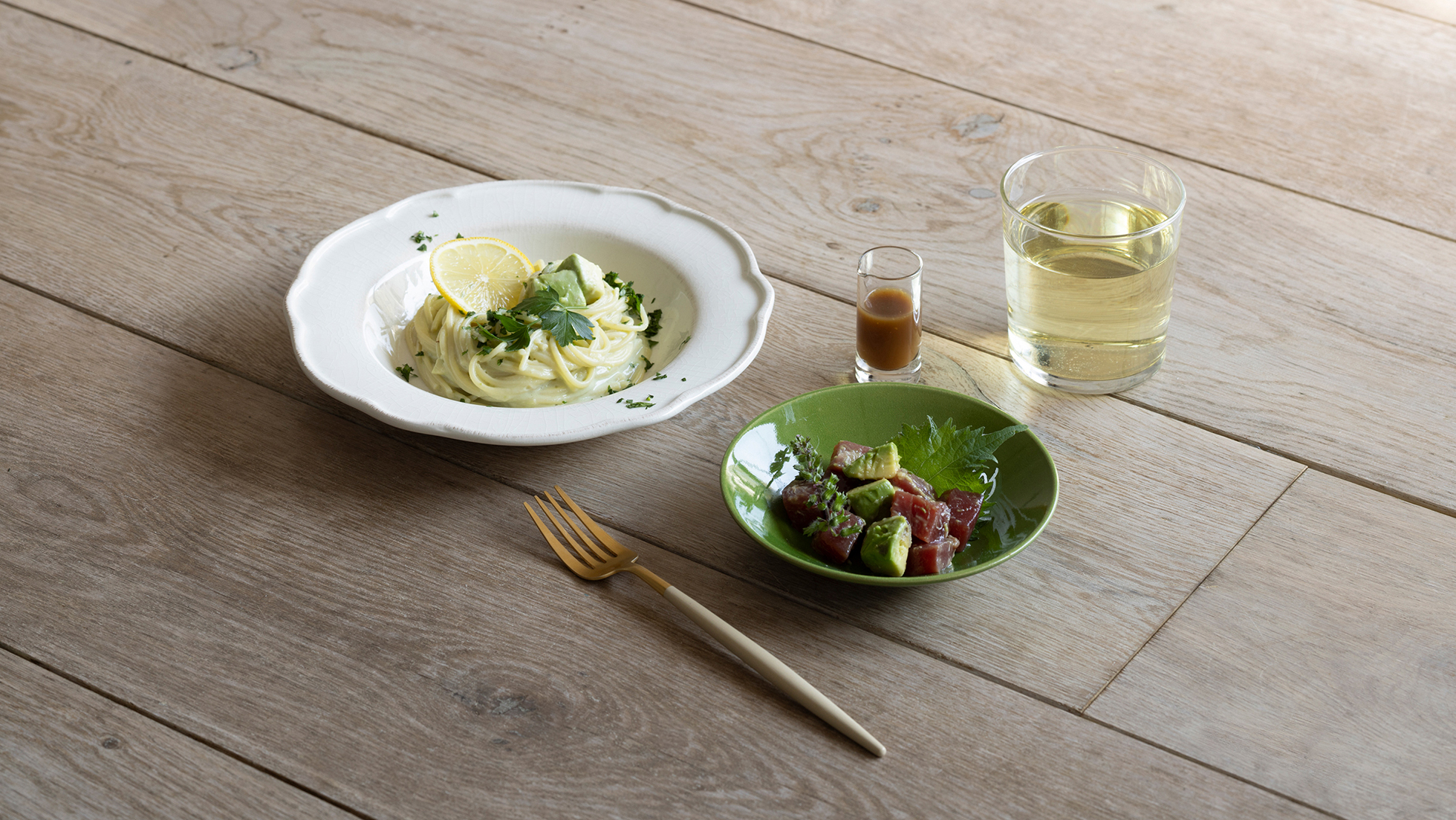 In January 2022, one of the students' recipes—a Takashima Bluefin Tuna and avocado pasta in soymilk cream sauce—was offered at the university's cafeteria for a limited run of four days. The recipe combines two different preparations of raw bluefin tuna: one batch marinated for 20 hours, and the other for just 3 hours. The students created the dish with the health-conscious women of Kyoritsu in mind, and the special menu item sold out every day of the limited run, with 20 servings prepared each day.
The Kyoritsu students' recipes and other promotional initiatives caught the interest of visual communications solutions company Amana Inc. The company gathered art directors, designers, food stylists, photographers, editors, writers, and other creators involved with cuisine to come together to create a short broadsheet that would showcase the students' work promoting tuna farming, with their innovative recipes as its centerpiece. On a day in March, the students met with Amana's staff for a two-hour workshop to produce this special print edition of Sojitz's caravan site, which is titled "caravan PAPER." The Kyoritsu students worked with the experienced designers and writers from Amana to design the visuals and write a tagline for the cover of the broadsheet.
Collaborating to select a cover photo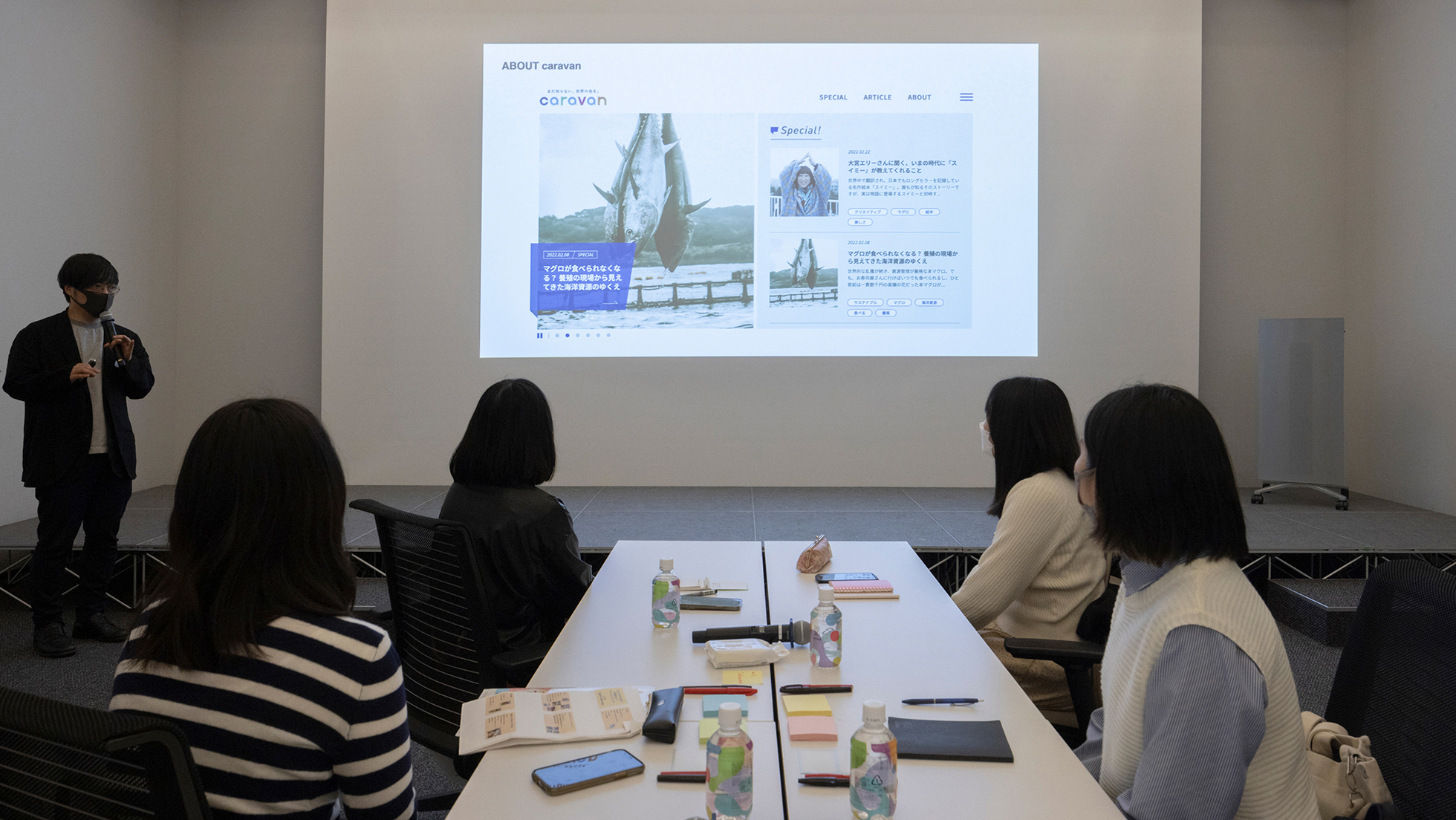 The students entered the workshop space with anxious anticipation. Four Kyoritsu students took part in the workshop: project leader Misato Akutsu, recipe team leader Yuika Chishima, recipe team member Marie Aoyama, and social media team leader Kaho Teranishi, who visited Takashima Island to observe Sojitz Tuna Farm Takashima's operations. The project team includes students who belong to the Department of Food Science and Nutrition and the Department of Architecture and Design at Kyoritsu.
Caravan content director Keisuke Tajiri first gave a brief outline of the day's agenda, the students each introduced themselves, and the creative workshop began. The students' first task was to select a photo for the cover of the broadsheet. They were presented with these four options.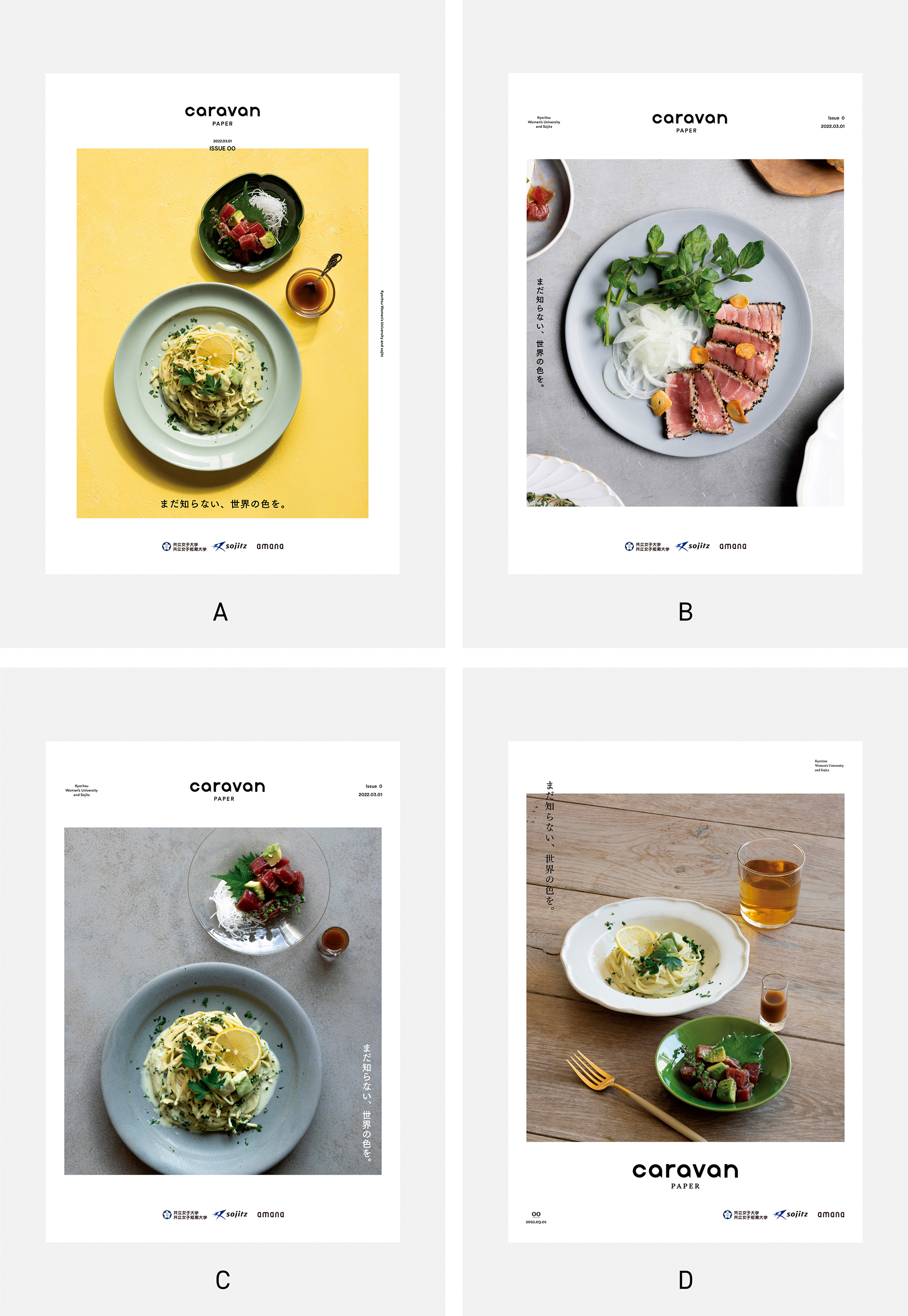 The professionals at Amana used their design skills to bring the students' recipes to life on the page, providing them with four cover design options
The students didn't initially agree on a cover design, so Amana encouraged them to write down all the words they associated with each photo. This step allowed them to clarify what kind of impression each design left, hone what exactly they hoped to communicate through the cover, and slowly draw out which design was the right fit for the broadsheet.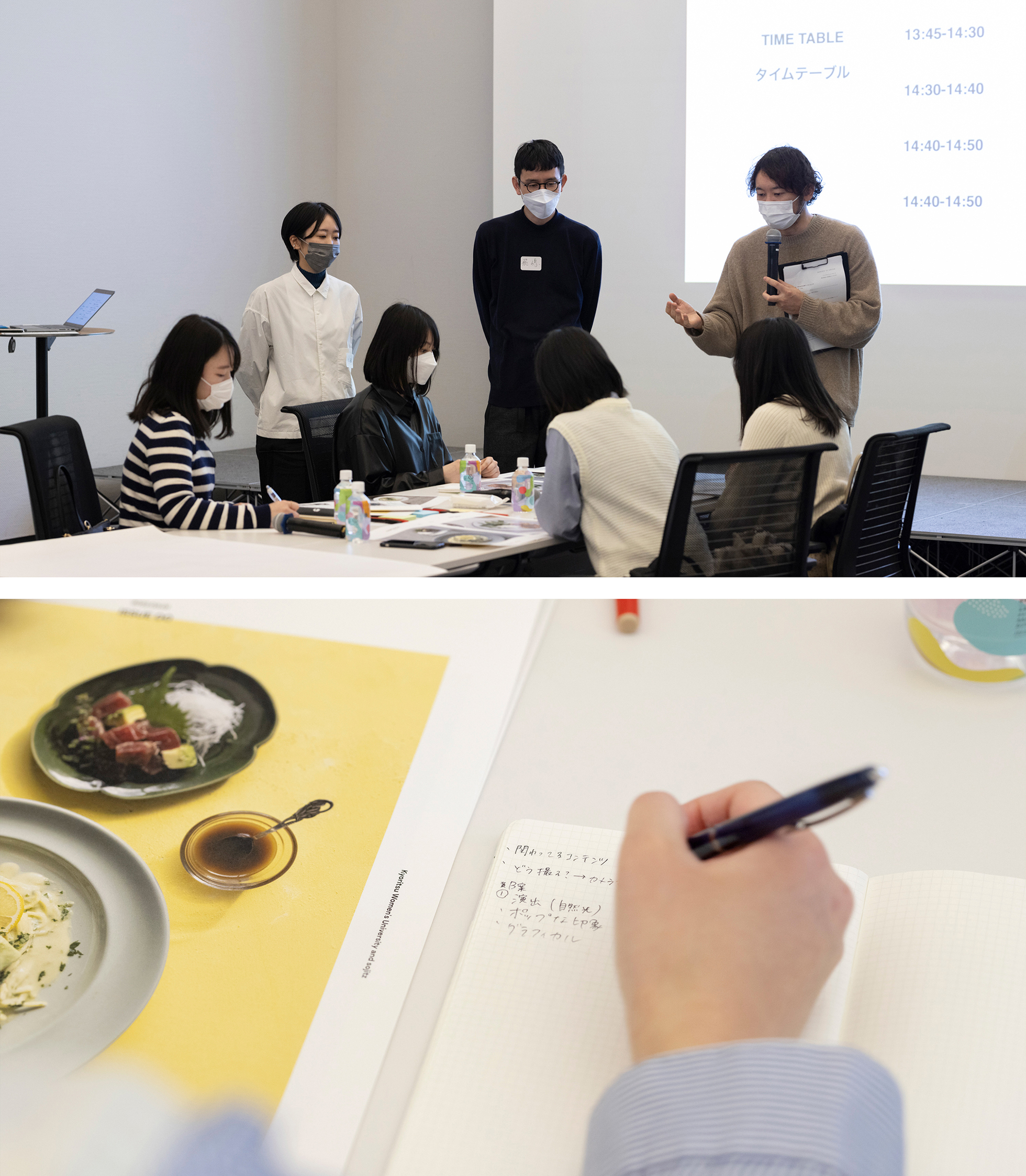 Amana's Shota Kato served as the editor in charge of planning the content of the broadsheet. For this project, Amana also partnered with Ampersands, a design studio involved in a wide range of print publications and the owner of the publishing label Applause Books. At the workshop, Kato worked with Ampersands art director Yuma Tobishima and designer Eri Sato to explain their intentions behind the design and composition of each cover. The designers aimed to create a communication tool that would primarily appeal to the students' younger demographic while also being interesting for adults. Photos of the workshop were taken by photographer Kaoru Yamada, who also shot the dishes for the broadsheet cover options. Hiroko Takenaka was the shoot's food stylist.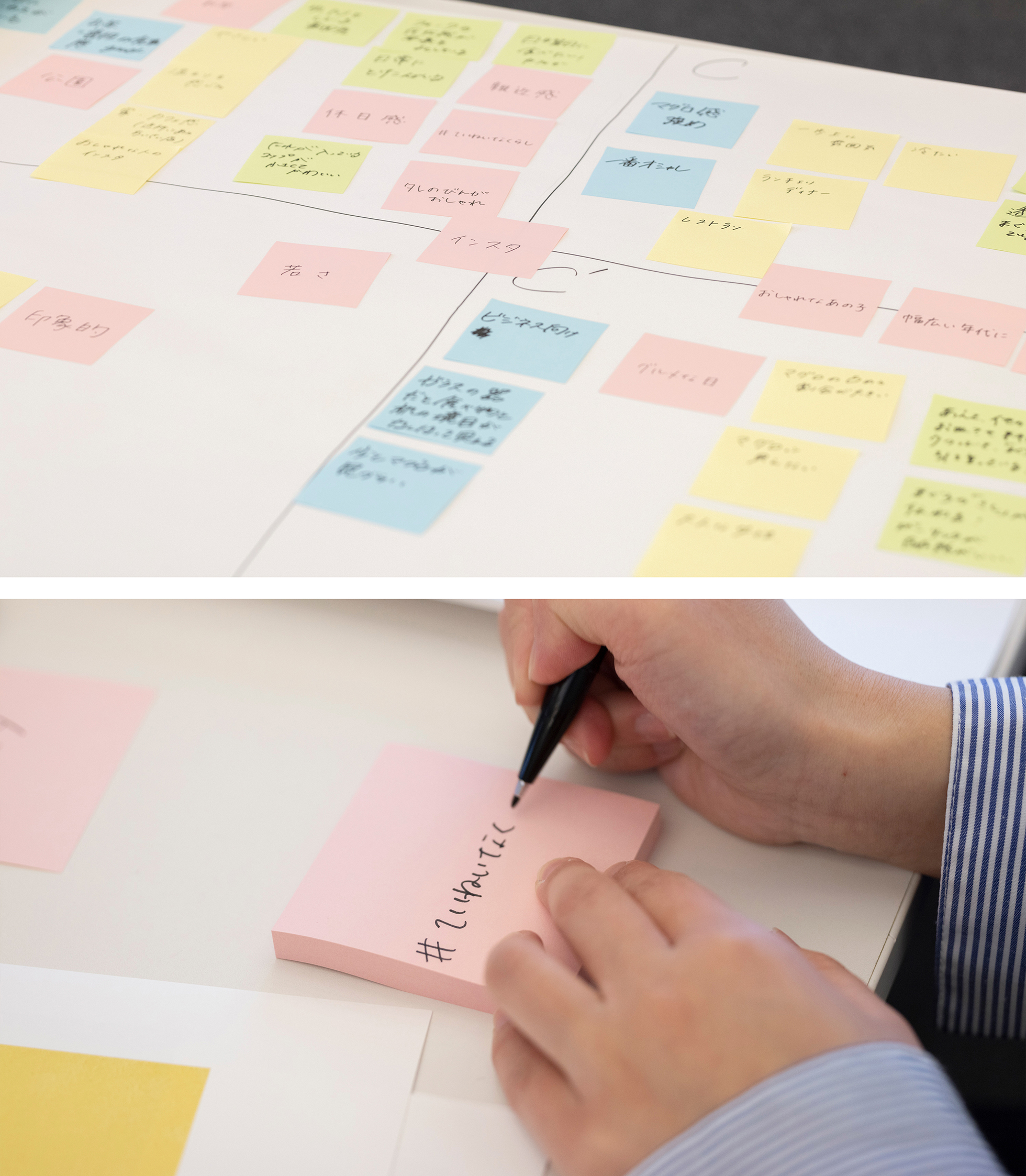 The students took a free-form approach as they wrote out their original ideas and opinions. They described the designs as looking like a cool, stylish person's Instagram account and evoking feelings of being on vacation. The once blank, white construction paper was filled in no time with words and hashtags like "clear bowls make the tuna really stand out," "#SimpleLiving," and "a gourmet day." After these ten minutes of brainstorming, Chishima summarized their thoughts for the editors and designers.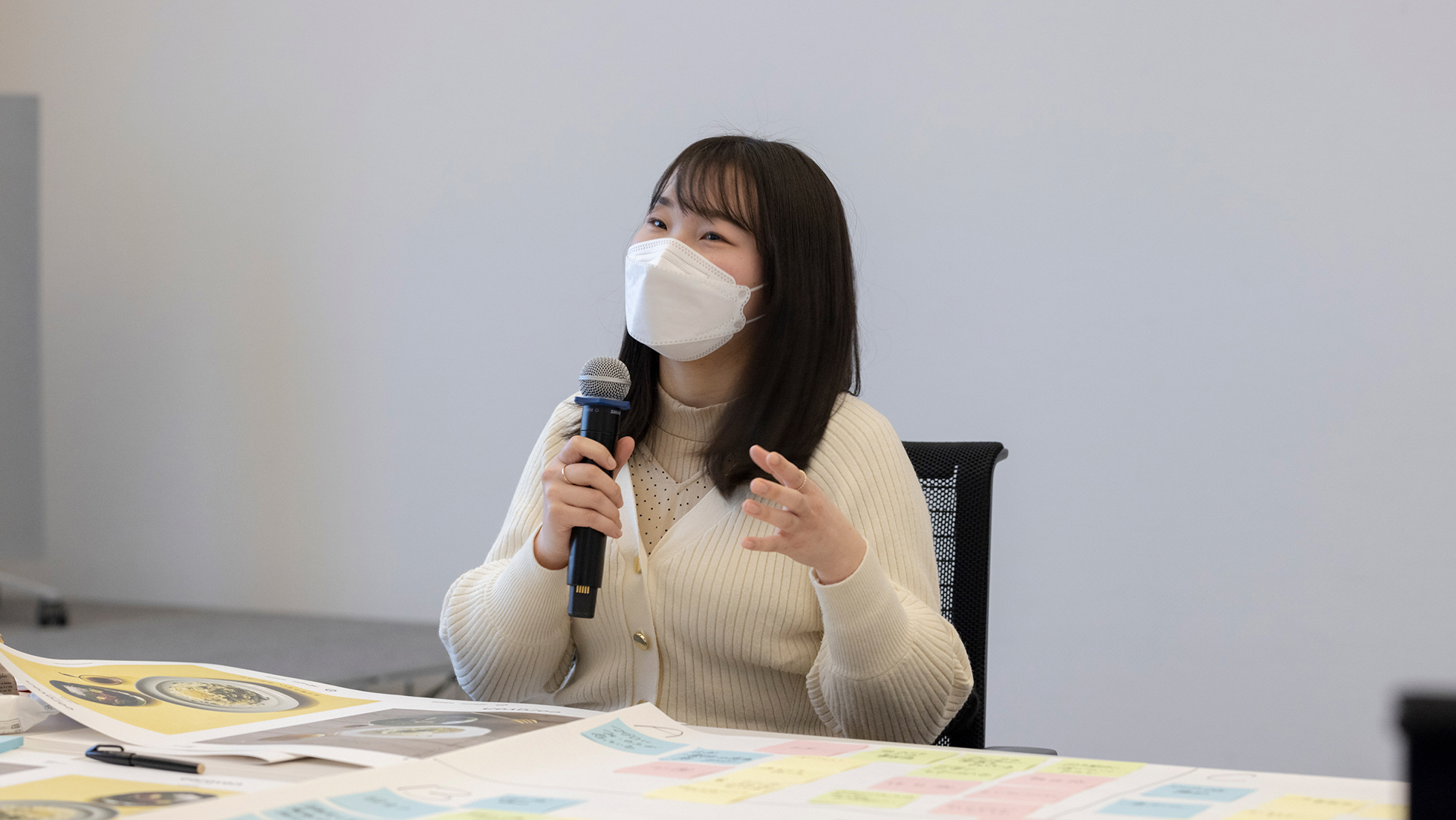 "Option A has a soft, relaxed mood, and there's a warmth to it. It reminds us of the small restaurant you might find in your neighborhood or one of the old traditional Japanese houses that's been converted into a café. It also looks like the kind of photo someone with a cool, fashionable Instagram account might post. Option B is bright and really pops—it's a very eye-catching design. Option C is cool and feels like it's for someone a bit more mature than our demographic. It has more of a dinner vibe, rather than lunch. The tuna takes front and center in option D, but we worried that people might not be able to tell that it's tuna."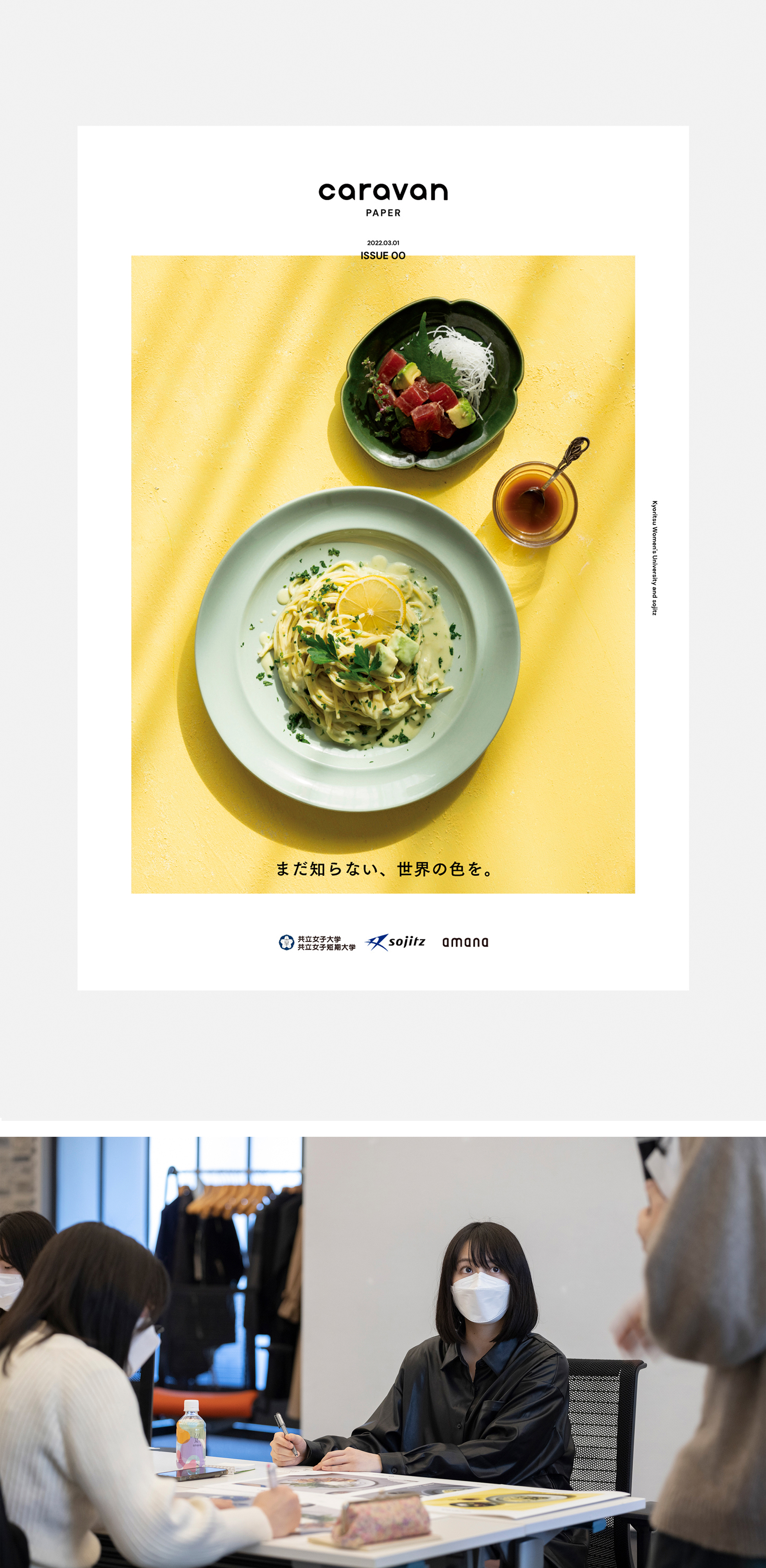 "We debated between option A and option B, but in the end, we felt that option A had a brighter, more fun design that would speak to university students. We also thought that choosing a realistic design that represents our perspective as young people would be more likely to resonate with adults as well." (Aoyama)
Throughout the workshop, Amana's expert creators were highly impressed by the depth of the students' discussions, their keen understanding of visual language, and their ability to clearly express their opinions.
Writing the perfect tagline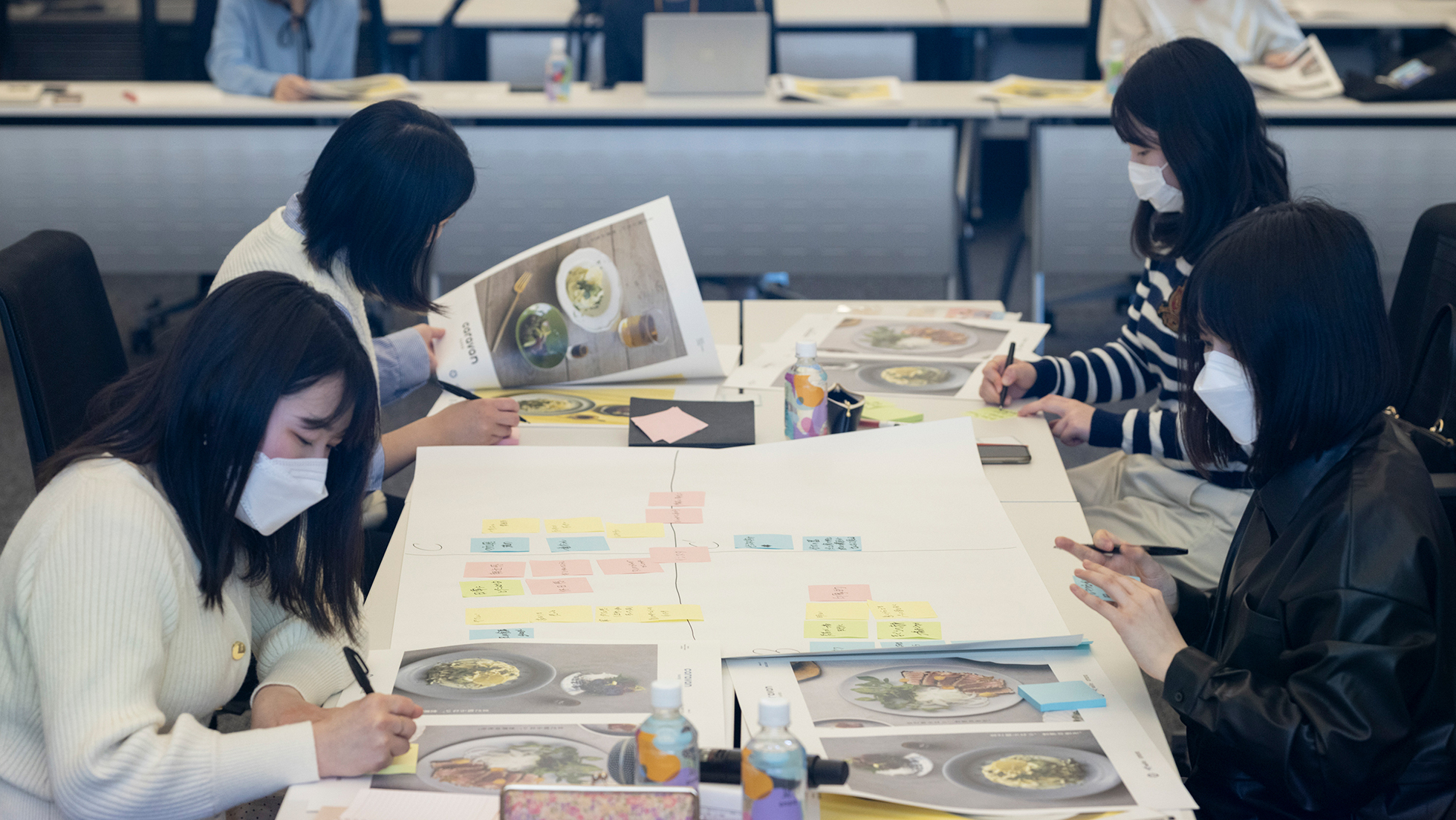 Once the cover design was decided, the students' next step was to work as a group to come up with a tagline for the cover. Their tagline would also serve as the title of this special print edition of caravan.
It can be difficult to come up with creative ideas without any clue as to where to start, so the experts prepared some keywords associated with the tuna farming project: "sustainability," "women's university students," "the future," and "aquaculture."
Just like their process for deciding the cover design, the students wrote out all the words they associated with the project, keeping in mind the content of the articles that would be featured within the broadsheet. Here is a small portion of their discussion on the tagline wording. Teranishi kicked off this discussion: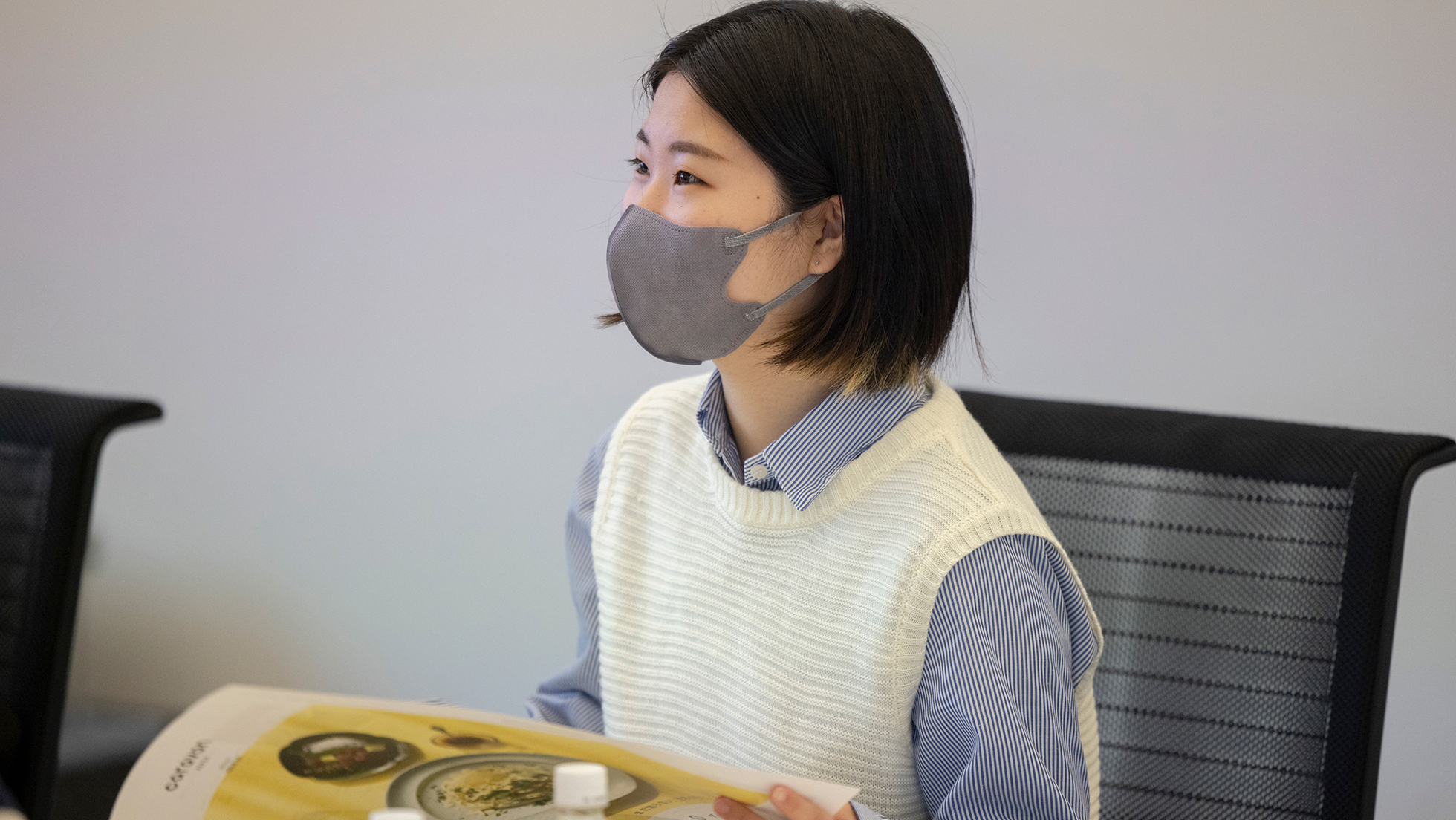 Teranishi: When I visited the aquaculture farms, I noticed how they really take great care of these fish as they raise them. I'd like to include wording that communicates that.
Akutsu: Sure, but words like "aquaculture" come across kind of stiff and formal, so we might want to try to express that idea in a different way.
Aoyama: Earlier, someone mentioned the keyword "safety," so we could maybe include something about traceability.
Chishima: The broadsheet also introduces new ways to eat tuna, so it might be good to come at it from that angle as well.
Akutsu: We also want to make sure it expresses our perspective, too.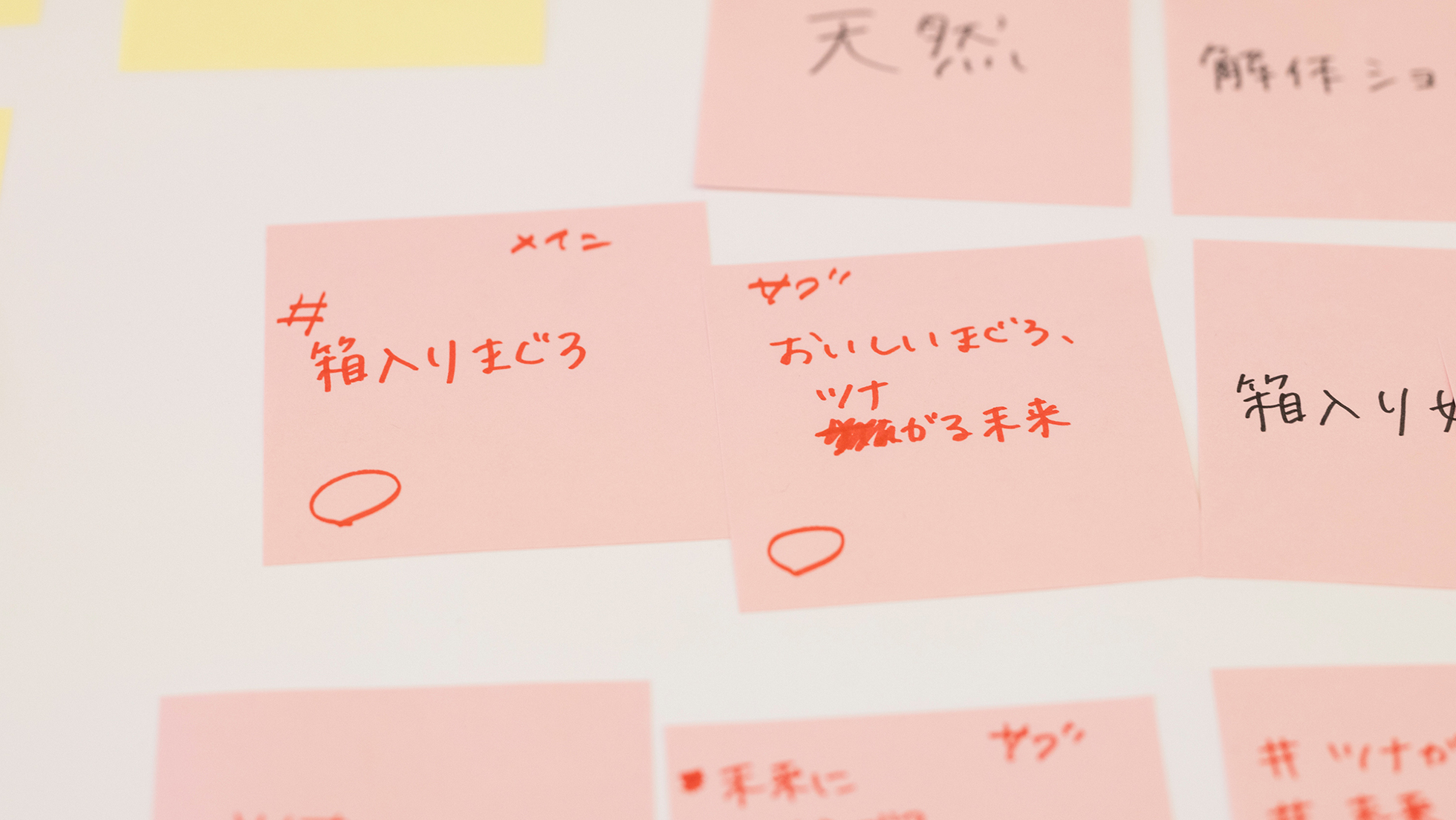 The students spent about fifteen minutes discussing their opinions on the wording. Taking into consideration advice from the experts, they finally decided on a title: "Hakoiri* tuna: Connecting delicious tuna to a sustainable future."
*Hakoiri: From "hakoiri musume," or "precious daughter"; a Japanese phrase meaning a daughter who is raised in a safe environment, protected and sheltered from the world.
Teranishi, who came up with the phrase "hakoiri tuna," explained her process: "When I visited Sojitz Tuna Farm Takashima, I got to hear from the workers there who showed me their farming methods. I saw just how carefully and preciously they raise their tuna. That made me think about the phrase "hakoiri musume," which eventually lead me to "hakoiri tuna."
However, there was concern that this phrase alone might not fully get their point across, so they decided to add a subtitle, as per advice from ampersands' Yuma Tobishima.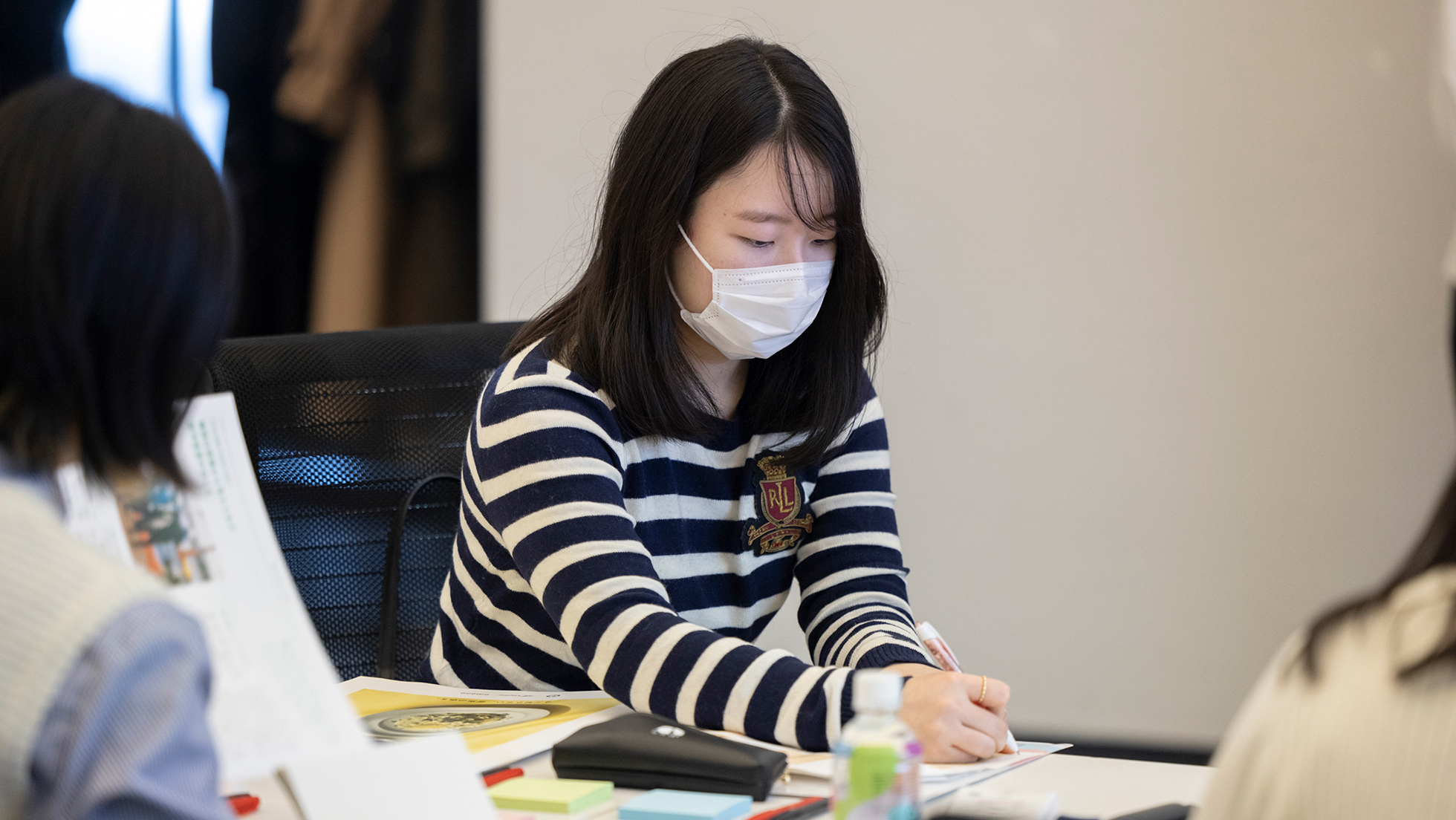 "We decided to make the subtitle as simple and direct as possible to capture some of the keywords that we came up with during the brainstorming session, like 'delicious' and 'the future.' We also used a play on words to deliberately express 'connecting' using the word 'tuna.'* Finally, we decided to include a hashtag to make it easy to share on social media and appeal more to young people." (Akutsu)
*"Tsunagaru" means "connect" and sounds like "tuna" when pronounced in Japanese.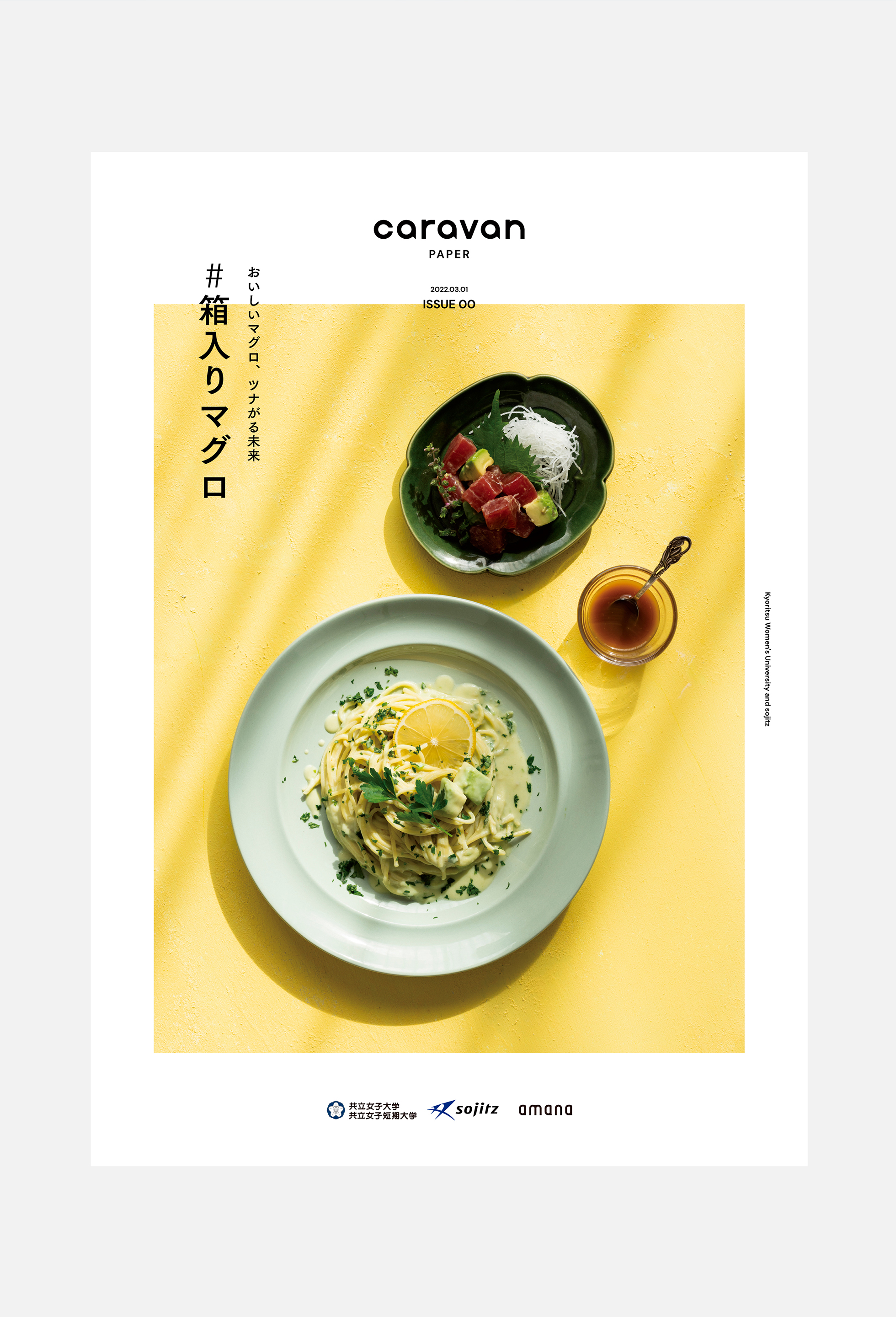 The final cover design and title were then combined right there at the workshop and presented to the students. The clever, unpretentious tagline only enhances the cover's stylish design.
A day of observation and discovery looking ahead to the project's second year

The workshop was a success, with the students choosing both a cover design and tagline for the broadsheet. When planning this event, Amana and the caravan creative team hoped it would be a learning opportunity for the students, but the workshop ended up being a chance for the experts who attended to make some interesting discoveries as well. The event was ultimately a highly valuable experience for everyone involved. To conclude, the students were asked to share their thoughts upon completing the workshop.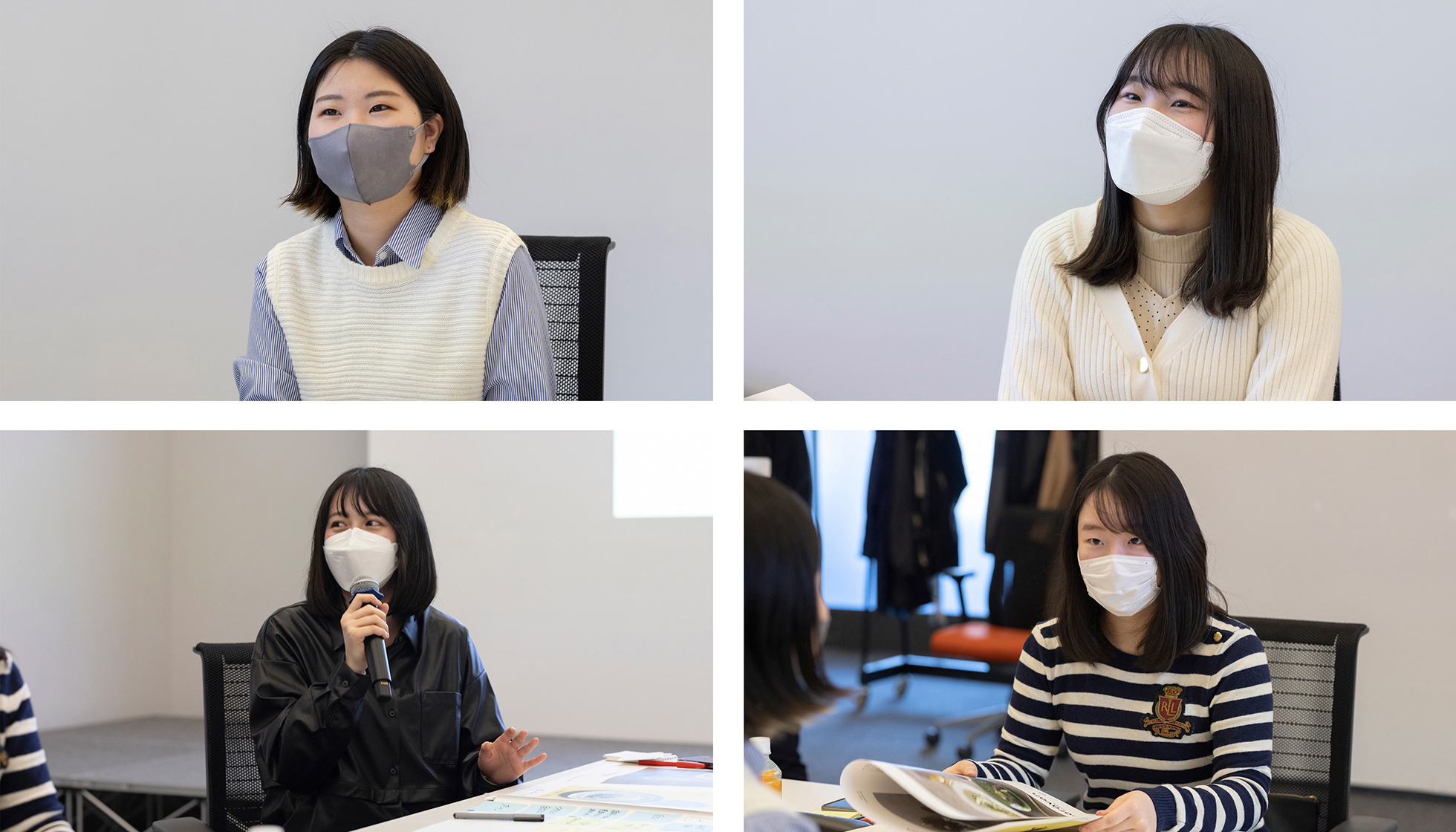 "This was an invaluable experience for me, and I hope to take what I learned today and use it in my studies. Since we are continuing with this project moving forward, it also made me feel motivated to work even harder." (Teranishi)
"Working with Sojitz has been a great experience for me, including this workshop today. I feel proud to see the recipes we worked so hard to create become a part of a broadsheet in this way." (Chishima)
"It was a huge challenge for us, having no experience in the design world, to choose a cover from the options the designers created for us. But they incorporated our thoughts and opinions, and I am happy that we were able to create a great final product." (Aoyama)
"This workshop really gave me a sense of just how many people are supporting us on this project. It is amazing to see our work presented in such stylish way. The workshop team pushed us further than we'd ever be able to go on own, and I am so grateful." (Akutsu)
Sojitz's industry-academia partnership with Kyoritsu Women's University will enter its second year this May. How will the discoveries made during this first year of the project be refined and infused into a new perspective for year two? We can't wait to see what Sojitz and the students of Kyoritsu create next.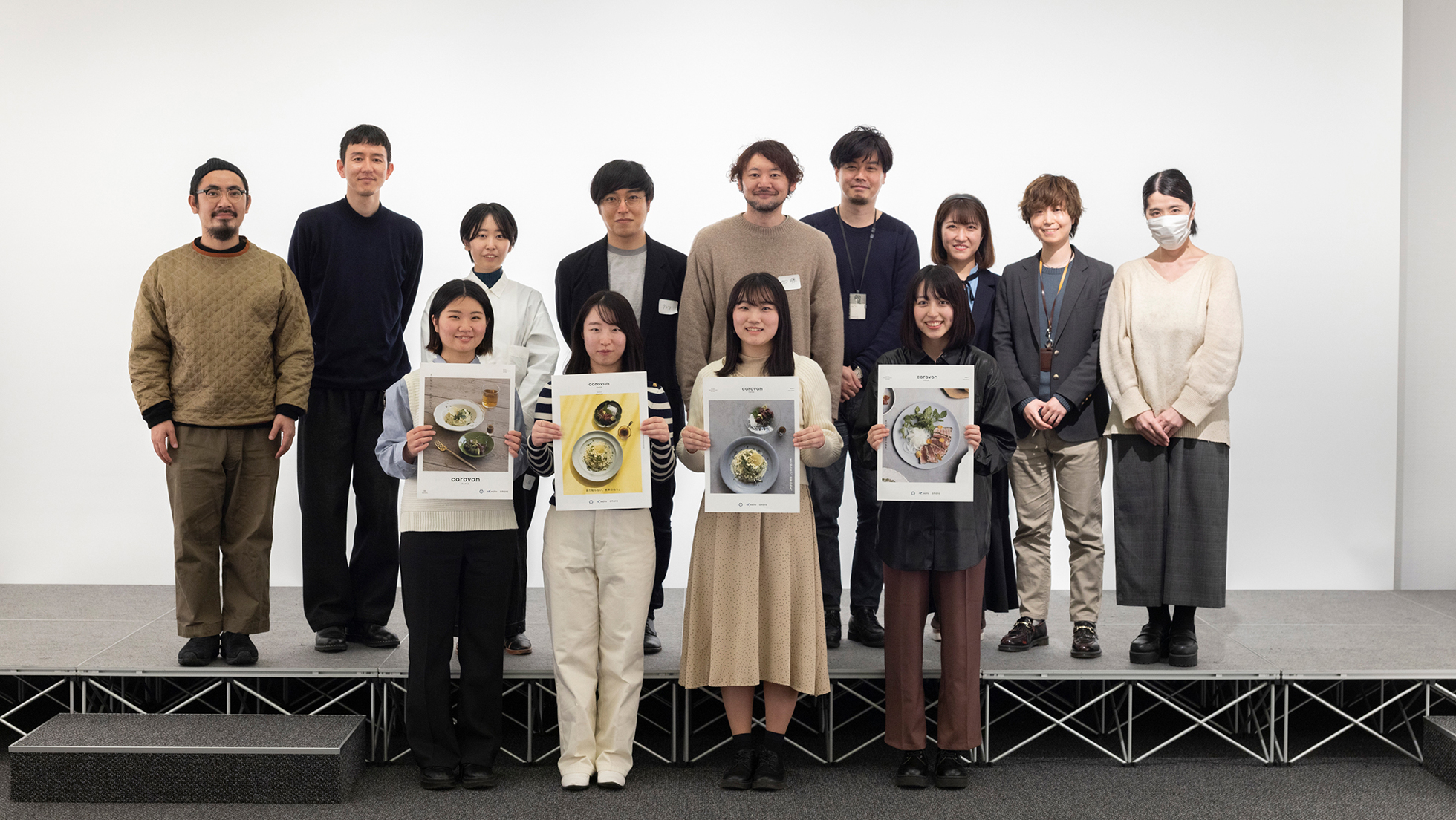 INFORMATION
Kyoritsu Women's University/Kyoritsu Women's Junior College
The Kyoritsu Women's University/Kyoritsu Women's Junior College campus is favorably located with views of both Tokyo's famous Jimbocho Book Town and the Imperial Palace. The institution was founded on the principle of promoting women's self-reliance and has supported the social advancement of women for over 130 years.
Kyoritsu offers courses in a wide range of academic fields and allows for a high degree of specialization, instilling in its students the ability to thrive and contribute in a diverse society.