<Department>Power Project Sect. 2, Power Project Dept.

<Assignment Location>Sojitz Corporation of America

<Assignment Period>March 2020–August 2021
Assignment Location and Work Duties
I am currently undergoing practical training at Sojitz Corporation of America's New York Office. I am primarily responsible for managing our Birdsboro gas-fired power IPP* project, which I worked on prior to my assignment here at SCA. I spend my days learning all I can about the American market—which is said to be the most advanced deregulated gas and electricity market in the world. As the American market is relatively mature and has a high level of liquidity, our projects involve hedging risk by trading derivatives such as futures and options rather than only trading in gas and electricity services themselves. I find that there is a significant financial aspect to our work.

*IPP: Independent power producer

Due to the COVID-19 pandemic, I spent almost half a year working from home after I arrived in March. However, I have gradually been able to go into the office more often, giving me opportunities to become closer with the staff here.
Challenges, Lessons Learned, and Skills for the Future
Here, they approach meetings with a very clear idea of what questions they want to ask and what items they want to discuss, and meetings usually take no more than 30 minutes. Since adapting to this style, I have been able to devote more time to conducting futures market analysis and considering strategies to raise project value, and I feel that I work much more efficiently and accomplish more in a day. I hope to continue working in this style moving forward.
Memorable Moments
One aspect of working in the U.S. that was exactly as I expected is the work-life balance. Employees think of themselves as fulfilling a specific role, and everyone works hard to produce quality results as efficiently as possible within the day's designated work time. Most people at my office responded positively to working from home. Many employees set aside weekday evenings and weekends as family time, so any group gatherings with colleagues are usually held during lunch or for an hour in the early evening.

However, I did find that people still enjoy chatting with colleagues. During icebreakers in almost every online meeting, people brought up recent news topics, shared about the new house they just bought, lamented their bad luck with the stock market, or gloomily discussed rumors of the NFL cancelling games this year. People share about their personal lives, and it allows everyone to learn more about each person's hobbies and interests. The fact that they prefer not to end things on a dry, work-only note is something that really stood out to me.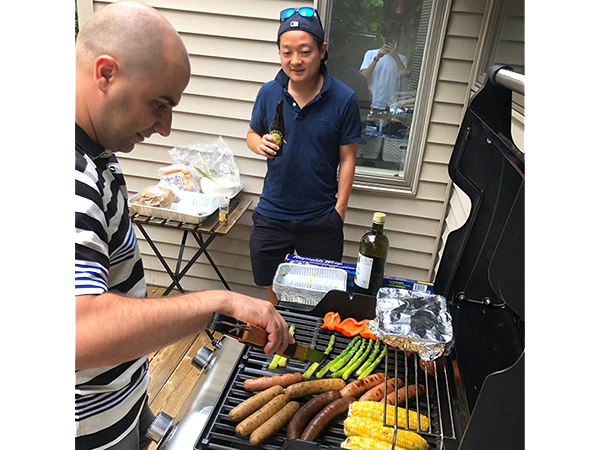 On weekends I enjoy barbeque parties where we grill food in someone's spacious backyard.
While working from home, I burned off extra energy by going running, covering more than 100 km each month. I had a great view of Manhattan from where I was staying by the river in New Jersey.
Recommended SightSeeing in New York
Montauk, a town on the far eastern tip of Long Island, is a popular vacation home area with white-sand beaches, hiking trails, wineries, and breweries. Montauk is the best way to make the most of summer in New York!