Vietnam is an agrarian country with an abundance of natural resources, a population of 93 million, and an industrious and high-quality labor force. Following the fighting in the Vietnam War, much of the country's land was destroyed. Recognizing Vietnam's potential, Sojitz worked to support infrastructural advancements in post-war Vietnam, and continues to support developments in the country.
Why has Vietnam been such a strong market for Sojitz historically?
Sojitz believed in Vietnam's potential and forged a long-standing collaborative relationship with the country.
Learn about how Sojitz has developed alongside Vietnam and what the company is doing in the country today by taking a look at Sojitz's "New way, New value" in Vietnam.
The following manga is based on historical events and has been created with as much historical accuracy as possible. However, the characters and setting include fictional elements.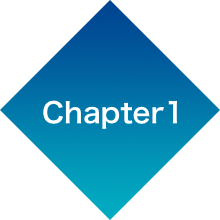 The Pioneering General Trading Company in Vietnam
Seventeen years after the conclusion of the Vietnam War, Mr. Shimizu, a young shosha businessman, is sent to Vietnam's capital, Hanoi, on assignment.
In Vietnam, Mr. Shimizu meets local staff members such as Ms. Tran and the experienced General Manager Mr. Yamagoe, who teach him about Sojitz's (formerly Nissho Iwai's) contributions in Vietnam

Establishing a Liaison Office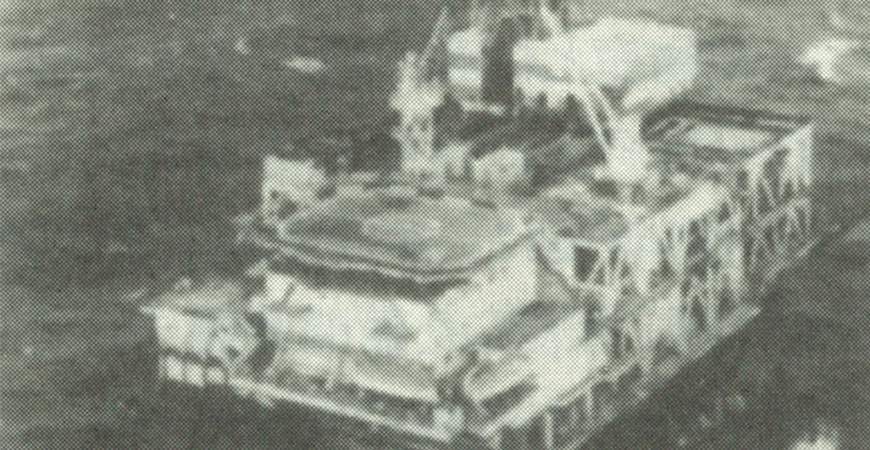 Following World War II, Nissho Iwai (one of Sojitz's predecessor companies) began drilling for oil in northern Vietnam at the Gulf of Tonkin and in southern Vung Tau.These projects were suspended at the onset of the Vietnam War and Sino-Vietnamese War, however.
Though Vietnam emerged as a unified country in 1976 following the Vietnam War, many companies were hesitant to openly forge ties with a communist country at the height of the Cold War, choosing to operate under dummy companies (deemed "friendly trading companies" by the Vietnamese government). Despite these circumstances, Nissho Iwai chose to openly use its company name for business proceedings, earning the trust of the Vietnamese government.
In 1986, Nissho Iwai was given permission as the first company associated with the Western bloc to establish a liaison office in Vietnam, which helped the company to gain a foothold in the Vietnamese market.

Nissho Iwai-Vietnam Joint Committee on Economy and Technology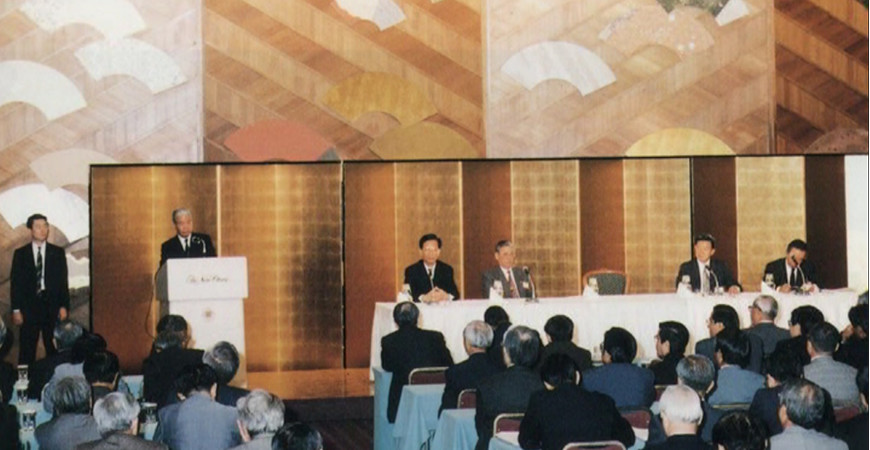 A turning point came in December 1986 when the Vietnamese government adopted the Doi Moi Policy.
The government cited economic reform as one of its national policies, naming Nissho Iwai as a partner to teach the government more on open markets.The first assembly of the Nissho Iwai-Vietnam Joint Committee on Economy and Technology took place in March 1987. The committee discussed policies for economic reform at the meetings, and it helped to jumpstart Nissho Iwai's business development in Vietnam.
The annually-held conference of the joint committee lives on as the Vietnam Subcommittee of the Japanese Business Federation (Keidanren), with this collaborative relationship between the public and private sectors spawning some of the current joint initiatives between Japan and Vietnam and strengthening the bond between the two countries.

Vietnam's Working Women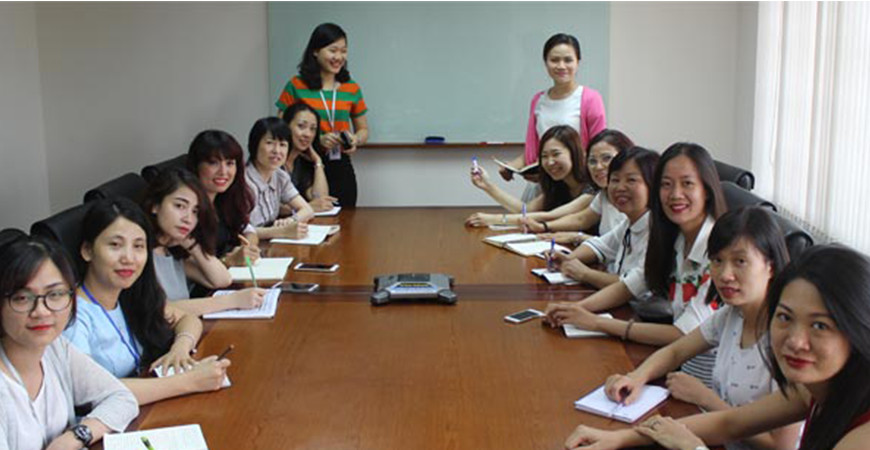 In Vietnam, it is common for both spouses to work. There are many women in management positions, and these women often are married with multiple children. Women are able to successfully balance work and family thanks to the support and understanding of their communities.
At the Ho Chi Minh offices of Sojitz Vietnam, there are 34 women out of a total of 51 locally-hired staff. Similarly at the Hanoi Branch, women account for 17 out of the 22 locally-hired staff. It is no exaggeration to say that women are at the forefront of Sojitz's business in Vietnam.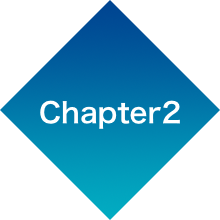 Making Use of Vietnam's Natural Resources
A glimpse of the Hanoi Office after GM Yamagoe's return to Japan.
Ms. Tran and Mr. Shimizu seek to restore Vietnam's natural landscape through businesses based on afforestation and fertilizer projects.
The two quickly become a "dynamic duo."

Vietnam's Woodchip Business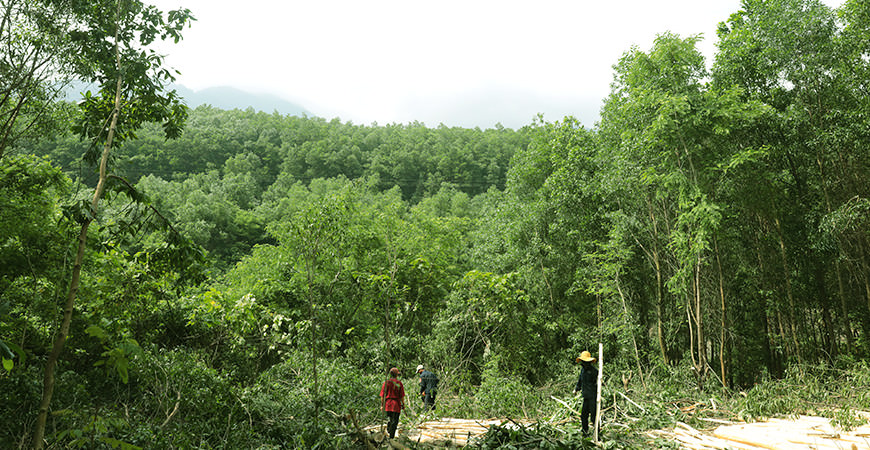 The business was started in response to a request made by the Vietnamese government during a meeting of the Nissho Iwai-Vietnam Joint Committee on Economy and Technology, where they called for support with afforestation and job creation.
War and traditional slash-and-burn agriculture had made restoring ruined land an environmental issue.
Sojitz responded by establishing VIJACHIP, an afforestation and woodchip production company, in 1993.
"Our work is meaningless unless everyone involved in the business is happy." That business spirit has been handed down since VIJACHIP was established. Operating a woodchip manufacturing company is not feasible without a stable supply of timber from farmers.
For our efforts to secure stable timber supplies and continue restoring forests through the expansion of tree planting, it was essential to create a structure that would bring benefits to farmers in the same supply chain.
VIJACHIP has constructed a business model which promotes the independence of Vietnam's tree plantation farmers. As of the end of 2016, they have provided 44.5 million saplings to small-scale farmers free of charge, reforested an area totaling 46,500ha, and helped create approximately 500,000 jobs annually.

Compound Chemical Fertilizer Business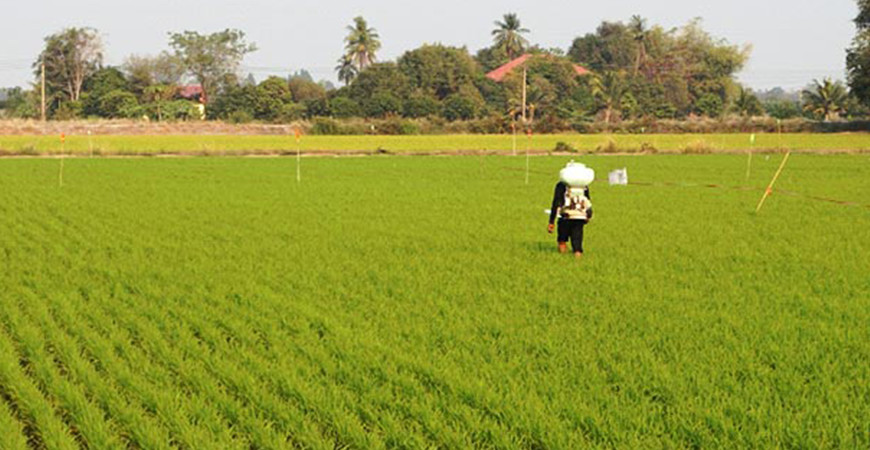 In 1972, Nissho Iwai established Thai Central Chemical Co. together with Central Glass Co., Ltd. and other Thai companies, becoming the first general trading company to make a foray into the compound chemical fertilizer business. Our company used this experience in Thailand to form JVF in Vietnam, which has since earned the trust of farmers for its high-quality products manufactured using Japanese technologies, as well as its expansive line-up of fertilizer brands available for every type of crop.
The compound fertilizers manufactured at Sojitz-operated fertilizer companies boast a top-class market share in Thailand, the Philippines, and Vietnam. Sojitz has also established a distributor business in Myanmar to expand product sales.Test marketing is in progress in neighboring countries, with work underway for horizontal integration of sales and manufacturing.
In this way, Sojitz's fertilizer business is working to meet growing demand for food in Asia by increasing productivity and job creation.

Loteco Industrial Park Business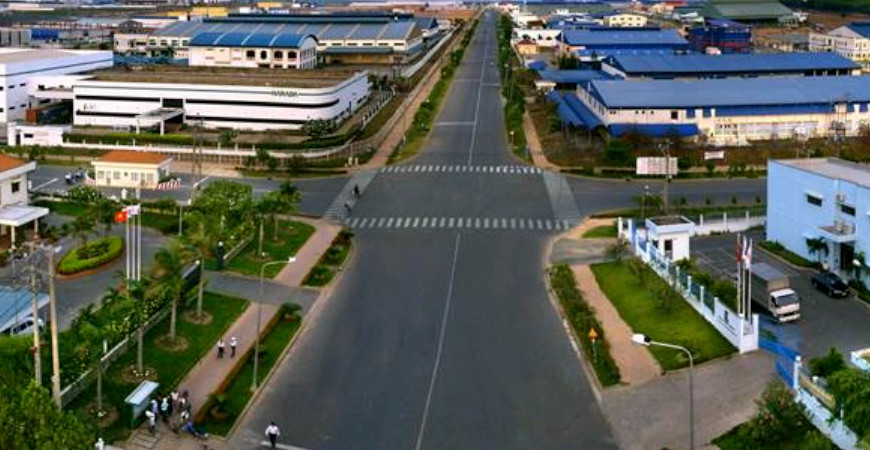 Loteco Industrial Park is in a prime location only 50 minutes from central Ho Chi Minh and 60-90 minutes from major ports and airports by car.
Security and maintenance services are available 24 hours a day, 365 days of the year.Basic infrastructure is already in place to provide a stable supply of electricity, water, and waste water treatment.Japanese staff are permanently stationed at the industrial park to provide full support for protocol necessary to set up business in Vietnam, including troubleshooting in Japanese and help with procedures to establish a subsidiary and move into the park.
In this fashion, Sojitz has created the basic foundation to support manufacturing businesses coming to Vietnam, successfully bringing automotive manufacturing, garment manufacturing, and many other, mostly Japanese companies to Vietnam.Sojitz has also decided to invest in a number of these companies to support the rise of Vietnam's manufacturing industry. Through this business, Sojitz will continue to contribute to job creation and industrialization in the communities throughout Vietnam.
The Asian Financial Crisis
The Asian Financial Crisis breaks out in 1997.
Vietnam's economy is impacted by the crisis, and the country faces financially difficult circumstances.
How do Ms. Tran and Mr. Shimizu navigate these unchartered waters?

Vietnam's First IPP/Power Projects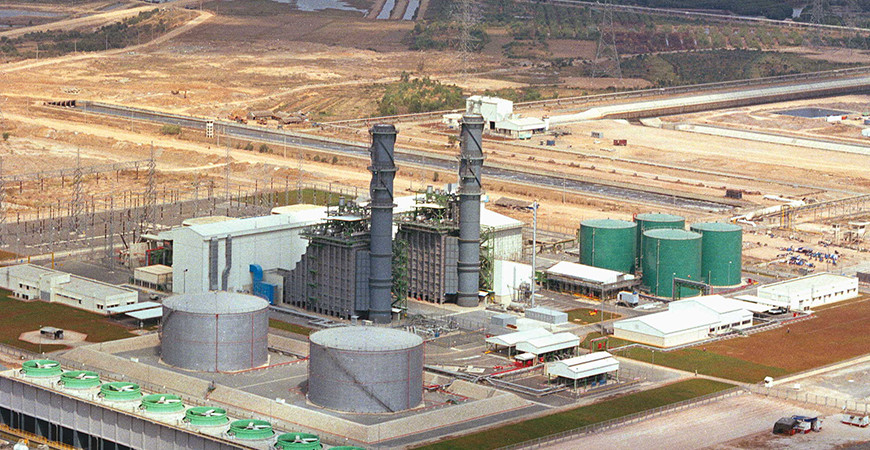 Sojitz's joint venture with Kyushu Electric Power Co., Inc., "Phu My 3" power plant, began commercial operations in 2004.
This power plant project is the first IPP (Independent Power Producer) project to be funded through foreign capital in Vietnam. Power plants were previously constructed by the Vietnamese government using its own funds. This IPP scheme, however, called for a consortium, of which Sojitz was a member, to contribute funds towards the construction of a power plant which would then sell its electricity to government-owned power companies in Vietnam, thereby recouping the initial cost of investment. Only a company like Sojitz, with an outstanding record of accomplishments in Vietnam, could undertake a long-term project requiring such careful judgment of country risks and other risk factors.
Phu My 3's output capacity is 744MW, which at the time operations began, supplied 8% (currently 5%) of Vietnam's total energy demand. It uses the country's own natural gas reserves, enabling Vietnam to run the plant without reliance on outside sources of fuel. Based on a 20-year power purchase agreement, the power plant will continue to supply Vietnamese power companies with the electricity to meet Vietnam's rising energy demand.

Friendship Award from Vietnam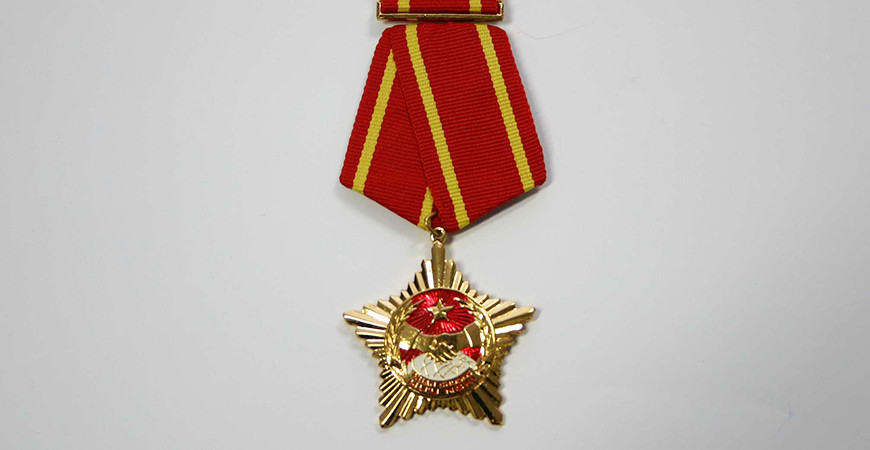 The year 2006 marked the 20th anniversary since Nissho Iwai was the first company associated with the Western bloc to establish a liaison office in Hanoi.
In cooperating with Vietnam on reconstruction and development policies, Nissho Iwai made many connections, establishing business in a wide range of fields. The 20th anniversary party saw government officials present Sojitz with a friendship award in acknowledgement of our company's long-standing friendship and contributions to Vietnam. This award is the highest order presented to a non-national, and the first award of this kind to be presented to a Japanese company.

Long Duc Industrial Park Business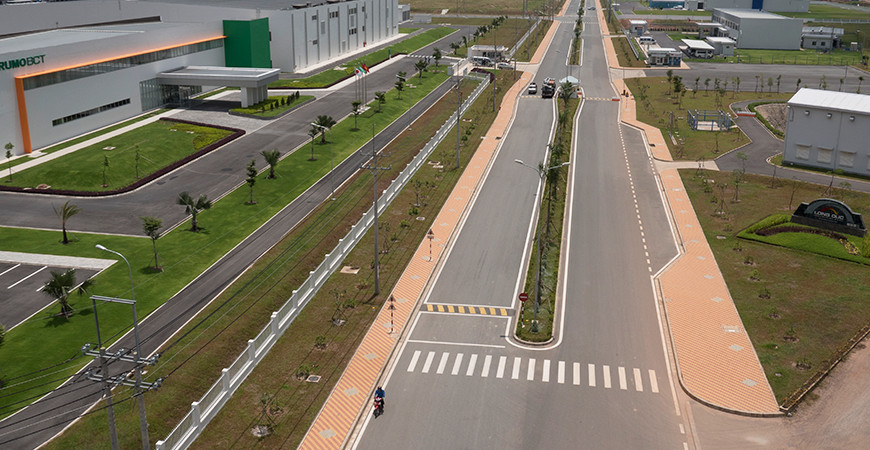 Located 40km east of Ho Chi Minh in Long Thanh District of Dong Nai Province, the industrial park is within one hour from two major ports—New Saigon Port and Cai Mep-Thi Vai International Port. Additionally the park is approximately 15 minutes from the North-South expressway and 20 minutes from Long Thanh International Airport, which is scheduled to open in 2025. This places Long Duc Industrial Park in the optimal location to serve as a center for manufacturing and logistics business.
The Long Duc Industrial Park provides the ideal environment for manufacturers seeking to establish their operations in Vietnam. The park offers integrated, one-stop services distinguished by Sojitz's comprehensive functions, which include logistics services provided by Sojitz Logistics and centralized gas distribution by Sojitz Vietnam Co., Ltd.
There is strong interest from Japanese companies looking to expand into Vietnam considering the "China plus one" strategy and efforts by Japanese companies to bolster their supply chains, and the Long Duc Industrial Park is poised to capture this demand.

CSR in Vietnam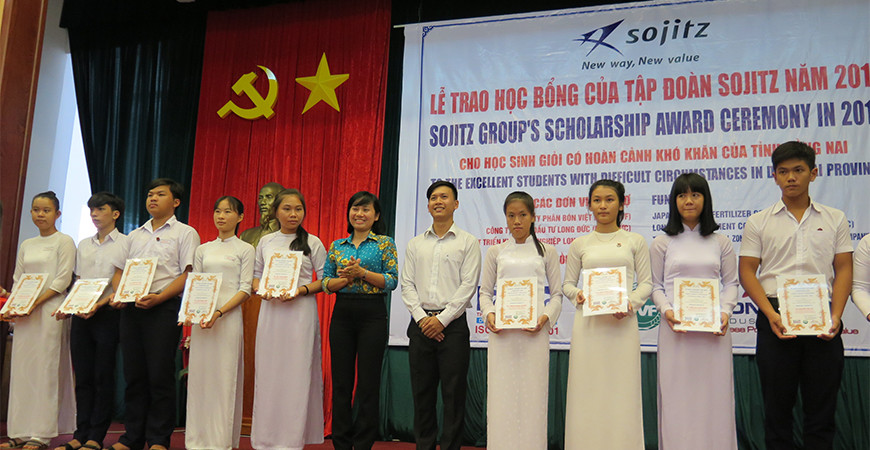 Since 2012, Loteco Industrial Park, Long Duc Industrial Park, and Japan Vietnam Fertilizer Company have funded a scholarship for academically-distinguished junior and high school students in Dong Nai Province.
Sojitz Vietnam Co., Ltd. began a similar academic scholarship program in Hanoi in 2016.
The Sojitz Group will continue to provide social contributions to Vietnam, such as by helping to develop businesses along with local communities and support education in the country.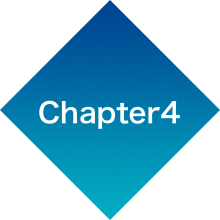 Targeting the Consumer Market Amidst Globalization
Sojitz reaches the next stage of business development in Vietnam by targeting the consumer market.

Grain and Feed Business
Vietnam's economic development has led to greater, more diverse demand for food in cities, while the country's shift towards a more Westernized diet has created high demand for wheat. Vietnamese people are also beginning to consume more meat, which accounts for the sharp rise in import of ingredients for livestock feed such as soymeal and corn.
In order to meet this ever-growing demand for grains, Sojitz invested in Interflour Vietnam Ltd. (IFV) in 2007. Sojitz began working together with them to expand their milling capacity after that. In 2010, Sojitz also helped them to complete Cai-Mep Agri Port (CAP), the largest special purpose grain port in the ASEAN region, by assisting with installation and expansion of port infrastructures, as well as the construction of warehouses and grain silos for storage.
Sojitz and Kyodo Shiryo Co., Ltd. (now Feed One Co., Ltd.) formed a joint venture company, Kyodo Sojitz Feed Company Ltd. (KSF), for the production and sale of compound feed.This marked the first time that a Japanese company entered business producing and selling compound feed for livestock in Vietnam.
Sojitz was able construct a grain value chain in Vietnam thanks to its investment in IFV and establishment of KSF.

Food Distribution Business in Vietnam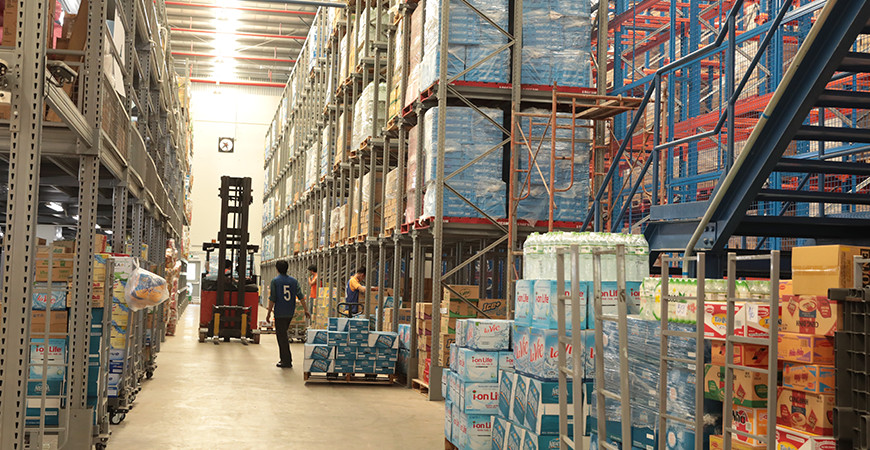 Sojitz anticipated growth in Vietnam's retail sector, and continues to actively invest in the industry.
With its investment in Vietnam's major wholesale food retailer Huong Thuy Corporation, Sojitz continues to further strengthen its wholesale business. Huong Thuy Corporation handles the greatest selection of brands in Vietnam, mainly in dairy products, beverages, candy, and condiments.These products are sold to over 40,000 supermarkets, convenience stores, hotels, restaurants, and private businesses owners across the country.
In 2016, Sojitz established Newland Vietnam Japan Joint Stock Company jointly with one of Vietnam's major logistics companies. The company provides modern cold chain logistics services using its own four-temperature (room temperature, fixed temperature, refrigerated, and frozen) logistics warehouses and trucks to consistently manage temperatures across all food product operations, from storage to store shipment. Establishing this cold chain logistics business has helped differentiate and strengthen the capabilities of Huong Thuy Corporation, as well as further expand Sojitz's food value chain in Vietnam.

Constructing a Food Value Chain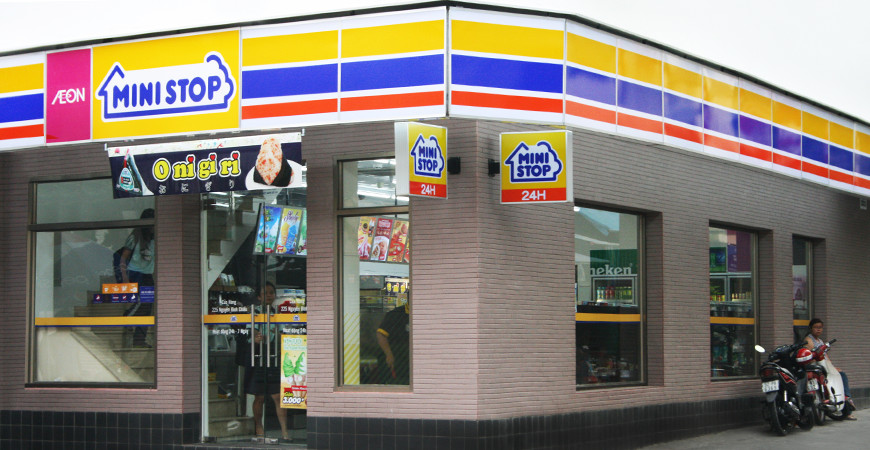 In 2015, Sojitz partnered with Ministop Co., Ltd. to expand Ministop convenience stores across Vietnam.
Two years later in 2017, Sojitz established Japan Best Foods Co., Ltd. (JBF) together with NittoBest Corporation, a wholesale frozen foods manufacturer. Located within the Sojitz Group-managed Long Duc Industrial Park, JBF's daily/prepared food manufacturing and meat processing factories are outfitted with state-of-the-art automation systems. The business produces daily/prepared foods and processed meats for sale to retailers and restaurants, including Aeon Group's Ministop convenience stores and supermarkets both big and small.
Sojitz will continue to utilize the sophisticated distribution infrastructures of its four-temperature logistics subsidiary, Newland Vietnam Japan Joint Stock Company, and its wholesale food subsidiary, Huong Thuy Corporation, to create a food value chain in Vietnam that covers everything from manufacturing to logistics to retail.
Sojitz will continue to develop alongside Vietnam through business projectswhich promote two types of value: "value for Sojitz" and "value for Society."
The Sojitz slogan is "New way, New value,"
which means generating new value through new ideas, not bound by convention.