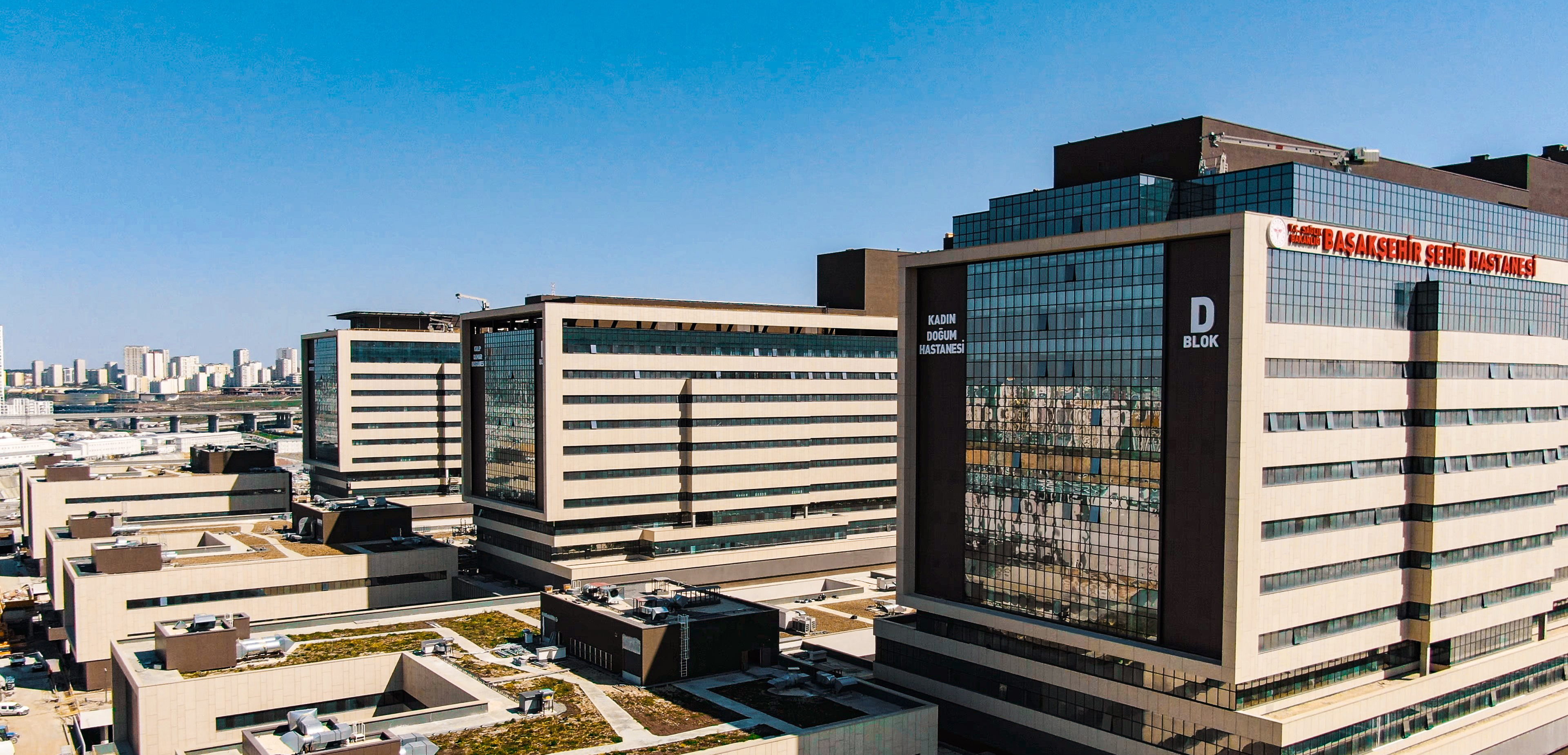 From Prevention to Healing: Comprehensively Supporting Medical Facilities around the World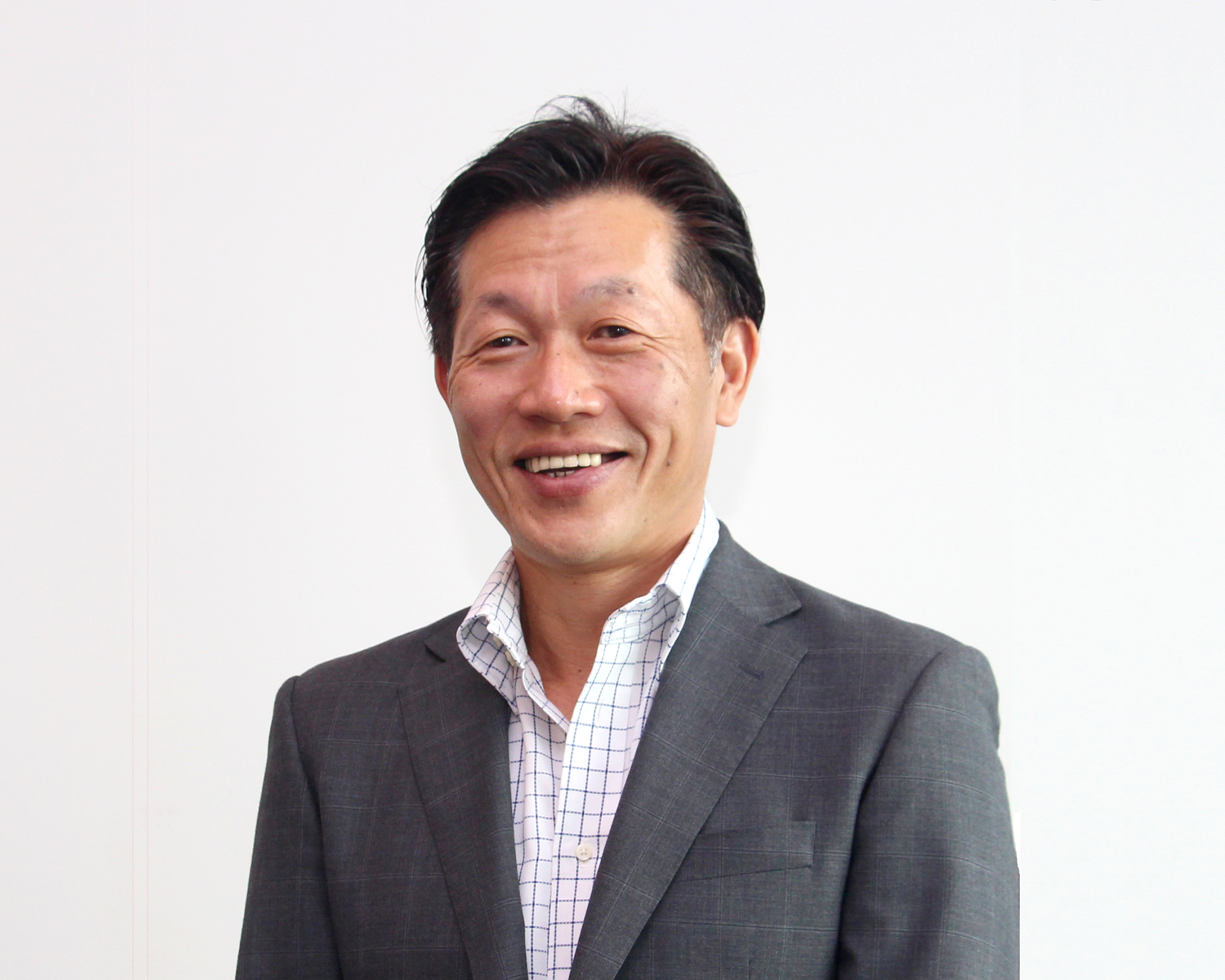 "How can we look ahead to create new business opportunities?"
Kiyoaki Tsuda
General Manager
Medical Infrastructure Dept.
The Medical Infrastructure Dept. was set up specifically for the purpose of handling the planning, construction and operation of the Turkey hospital project. The first pillar of the department's business consists of operating the hospital, which is being undertaken as a public–private partnership (PPP), while the second pillar involves integrating primary care and new technologies, to achieve the department's ultimate goal of providing comprehensive support spanning prevention to healing for medical facilities around the world.
We were able to successfully bring our first large-scale hospital construction project to completion because of our department's success in building a relationship of trust with Rönesans Group, a major Turkish construction company. With the benefit of having a network unique to a general trading company with bases around the world, our department will seek to bring in new partners from outside the medical field with whom to develop this project further.
At the hospital's inauguration ceremony held on May 21st, Turkish President Recep Tayyip Erdogan and Japanese Prime Minister Shinzo Abe, who attended via video conference from Japan, shared messages with attendees. I sensed that this was a project for which not only Turkey, but also Japan have high expectations. At the same time, I felt happy to contribute to medical care in Turkey and to help the people there.
In order to strengthen primary care, the Medical Infrastructure Department is currently investing in businesses that are working to apply new technologies to medical care, such as with telehealth services that make use of AI and 5G as well as elder care services that utilize ICT, and promoting the introduction and usage of those services. Although we had been working on preparations to introduce these services in the future, the COVID-19 pandemic has suddenly brought them to the forefront. Going forward, asking ourselves how can we look ahead to create new business opportunities is going to be crucial for advancing the medical field.
In light of the current COVID-19 situation, I have again recognized the urgent need for medical care to be available anywhere in the world, and that it be of the same quality as face-to-face treatment in a doctor's office. We are working our hardest to bring the healing hand of medicine to people everywhere in the world. Finally, doing business in these new fields requires new ideas. Thankfully our department has many young members, so I intend for us to keep taking on new challenges without hesitation.
The Largest Integrated Health Campus Project in Turkey Made with the Involvement of a Japanese Company
In 2017, Sojitz decided to join the project for the construction and operation of the Ikitelli Integrated Health Campus,* the first overseas hospital PPP by a Japanese company. Rönesans Group, a major Turkish construction company with whom Sojitz has a decade of partnership experience, joined as a partner in the project. Construction began after surveys of the site, careful analysis of information, and the phase to secure financing were completed. During this period, the COVID-19 pandemic spread through Turkey. The hospital was scheduled to open in June, but part of the hospital opened in April in order to accommodate COVID-19 patients. The hospital officially opened its doors in May.
The joint venture established between Sojitz and Rönesans Group not only undertook the construction of the hospital, but will also be involved in providing services such as laboratory testing, sterilization and disinfection, and rehabilitation over the long term. This project, which makes use of Japan's extensive medical know-how, is contributing to medicine on the ground in Turkey.
*Official Hospital Name: The Basaksehir Çam & Sakura City Hospital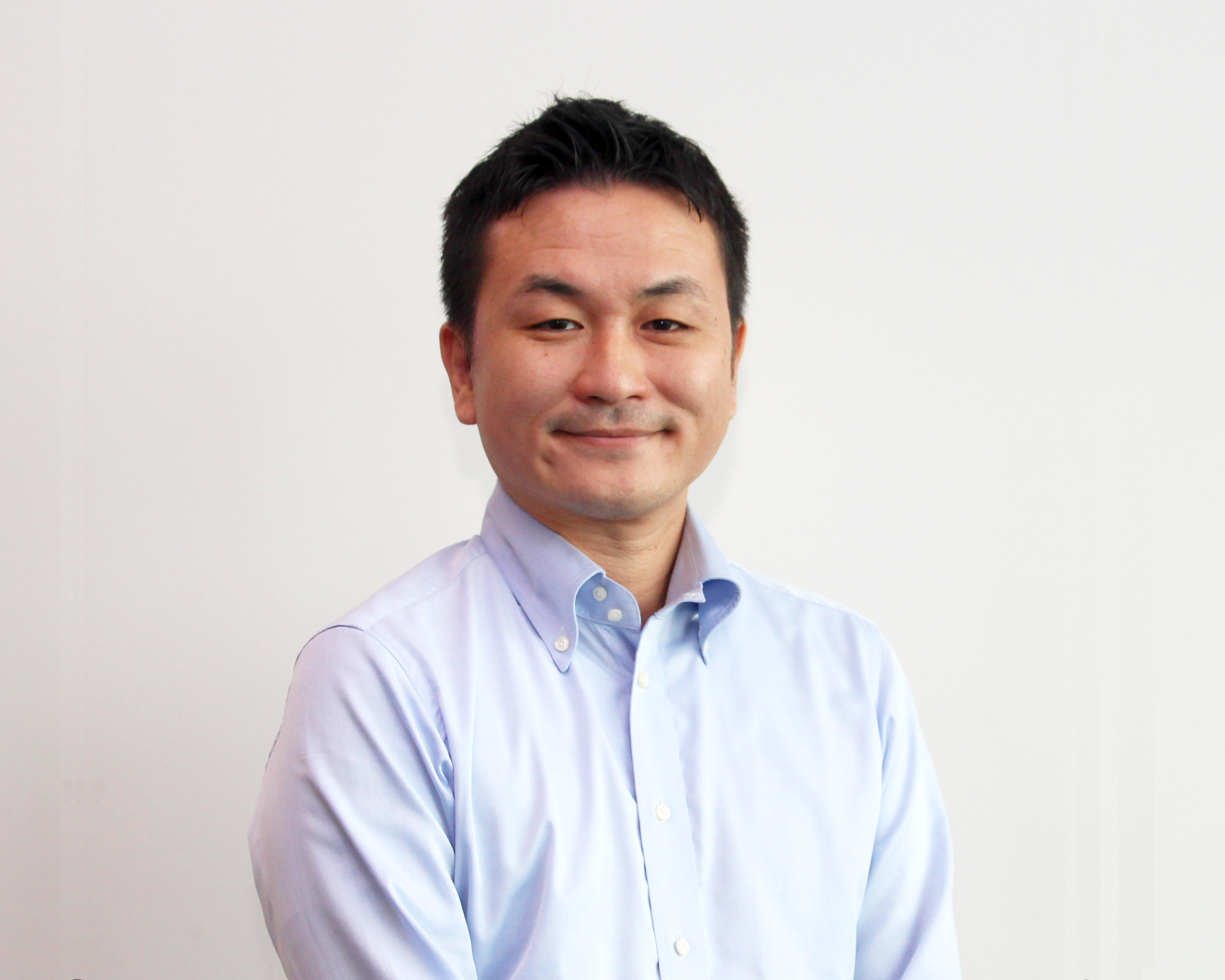 "Every member's sense of duty served as the foundation for tackling the country's crisis"
Masaki Ishiguro
Manager
Business Development Sect. 1, Medical Infrastructure Dept.
Construction on this project began in October 2017. With a 10-member Sojitz team that included 4 on-location employees at the helm, construction of the 2,682-bed hospital—the largest in Turkey—proceeded smoothly, with around 20,000 workers taking part in the construction. The hospital was originally scheduled to open in October 2020, but this plan was moved forward to June. However, the COVID-19 outbreak became a global pandemic as we entered 2020. Turkey began to see a dramatic rise of cases in March, placing great strain on the country's medical system. At the beginning of April, Prime Minster Erdogan's administration requested that the hospital open as a facility to host and treat COVID-19 patients.
Despite the ongoing lockdown restrictions which under normal circumstances would cause construction delays, the on-site project members became galvanized by the mission that lay before them. They responded by working to ensure that the hospital could accept patients as quickly as possible, demonstrating their conviction that there was no time to spare to help the people of Turkey. Because project members who were in Japan were not able to travel, we held web conferences every day and used the opinions collected from the site to assist in organizing information. Although it was a much more fluid process that deviated from the original plan, the hospital began accepting patients in April 20th and officially opened its doors on May 21st.
This was a large-scale project with many companies, organizations, and institutions involved. I feel that we were able to overcome a situation as difficult as this because we were all on track moving towards one goal together. As a general trading company, it was a hugely valuable experience to be involved in the process from the beginning.
Furthermore, operating a hospital is not a matter of "build it and you're done." Rather, we will be able to offer continuous services there on a commercial basis. I hope to utilize the knowledge gained from this project and apply to the next project or to other medical infrastructure businesses. I believe that this will contribute to maintaining health and stabilizing the quality of life for people not only in Japan, but throughout the world as well.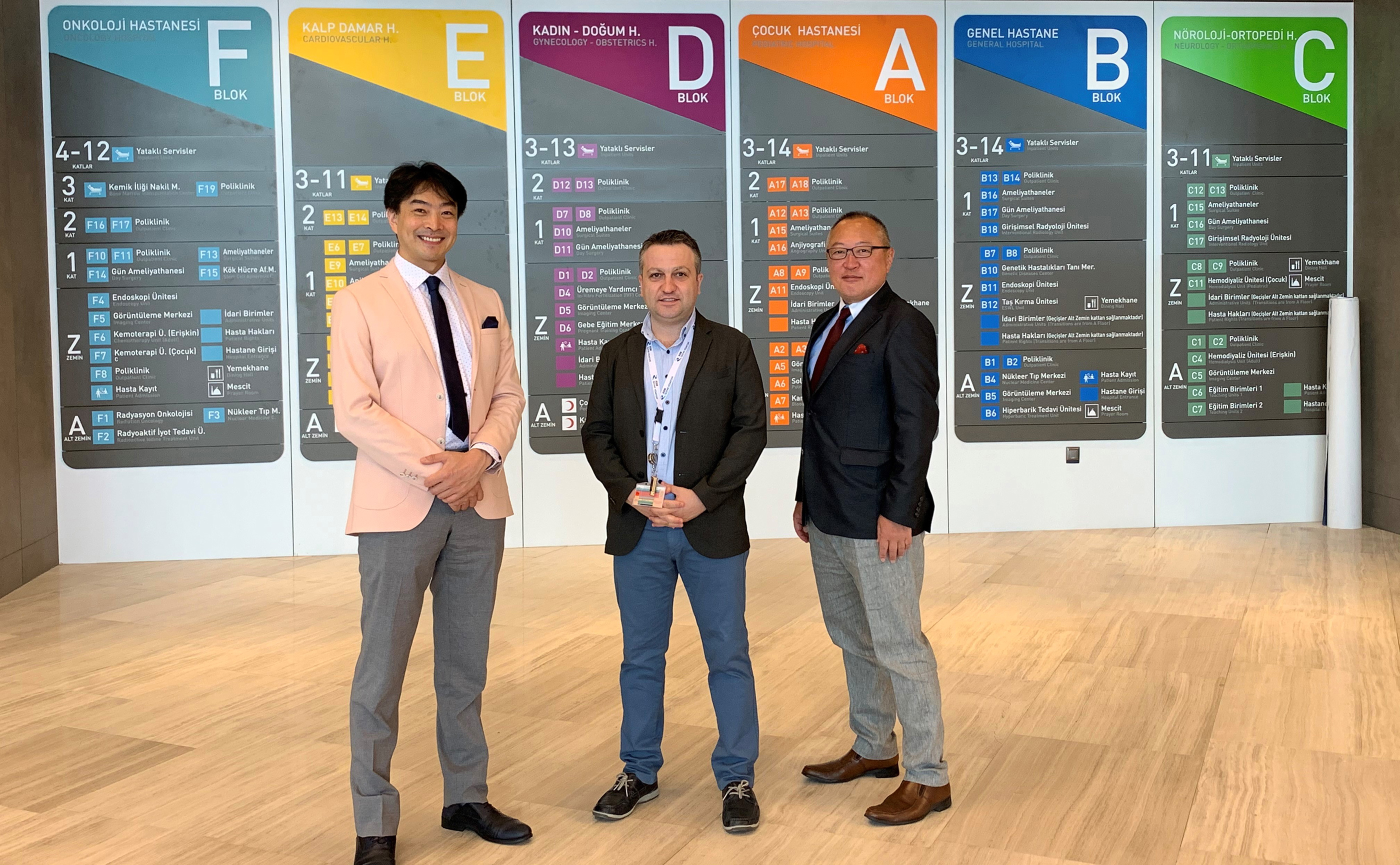 Project members who played an active role at the project site (from left):
Shohei Goda, Serdar Gursoy, and Takahito Kurata
---
Expanding into the Smart Healthcare and Medical Platform Business Utilizing New Technologies Investing in Healthcare Startups
Virtual Healthcare Assistant Technology
Sojitz has invested in Sense.ly Corporation (Head Office: U.S. Sensely), a startup that uses artificial intelligence (AI) to provide virtual healthcare assistant technology. Sensely has developed an app that uses AI to provide medical information by utilizing medical case content and diagnostic information. Sensely's app not only makes it possible for users to receive medical consultations remotely in their own home, but also contributes to lower medical expenses and reduced insurance fees. Sojitz will leverage its global network to promote the adoption of Sensely's app to hospitals, clinics, and insurance companies around the world.
[Related Information] [News Release] Sojitz Invests in U.S. Healthcare Startup Providing Virtual Healthcare Assistant Technology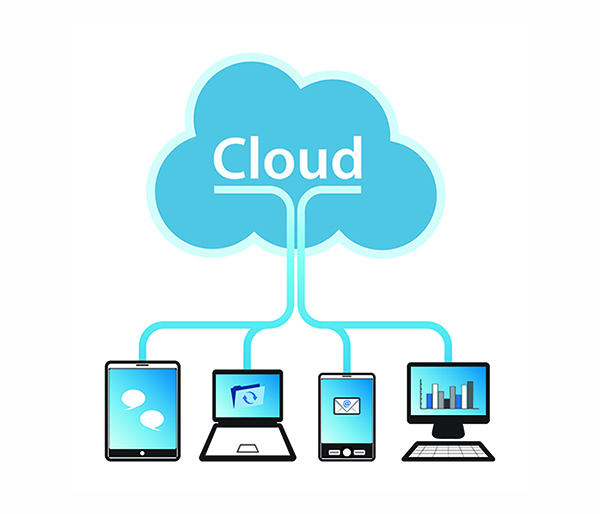 Telehealth Services
Sojitz has invested in Tetsuyu Healthcare Holdings Pte. Ltd. (Head Office: Singapore), which has developed a remote healthcare system utilizing ICT and AI capabilities. The system was developed by integrating home healthcare management in Japan with advanced ICT and AI image processing technology, and is already being offered in Singapore. The system allows clinical monitoring and consultations to be carried out remotely. It also stores the patient's daily health information and medical records in the cloud, and utilizes AI technology to make assessments and create treatment plans.
[Related Information] [News Release] Sojitz Invests in Healthcare Startup Providing Telehealth Services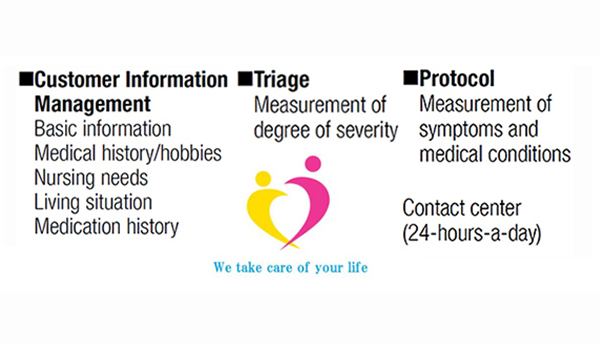 Home Monitoring Service
Sojitz has acquired stake in Anshin Support Co., Ltd., a venture firm providing a home monitoring service that utilizes emergency call devices and a contact center. The service began targeting the ever-increasing number of households with only a single elderly resident, and now the service's user base exceeds 10,000 people. The company operates its own contact center which has nurses on-site around the clock, and the service provides 24-hour-a-day monitoring. We intend to construct a comprehensive platform in the healthcare and medical field by adding online medical diagnostic services to the home monitoring service acquired in this investment.
[Related Information] [News Release] Sojitz Invests in Venture Firm Providing Home Monitoring Service