The construction site for the Birdsboro natural gas-fired power plant
The Birdsboro Natural Gas-Fired Power Plant under construction in Birdsboro, Berks County, Pennsylvania is a combined cycle generation*1 power plant capable of generating a total 488MW. The plant uses General Electric's state-of-the-art gas and steam turbines and is scheduled to complete construction and begin commercial operations in May 2019. Once commercial operations commence, the project will supply electricity to the American Northeast through PJM*2, the U.S.'s largest wholesale electricity market.
| | |
| --- | --- |
| *1: | A method of generating electricity which combines gas and steam turbines to raise energy efficiency |
| *2: | One of the U.S.'s leading wholesale electricity markets. Covers an area spanning 13 states including Pennsylvania, New Jersey, Maryland, and Washington D.C. |
A New Region, a New Scheme
One of the Infrastructure & Environment Business Division's goals under the current Medium-term Management Plan is creating business innovation and expanding business opportunities by branching out laterally across regions. This project is poised to meet both of these goals.
Sojitz has worked on several IPP projects in Southeast Asia and the Gulf States which have all been based on contracts for the long-term sale of electricity, over 20 or 25-year periods. This scheme has been shown to reliably generate steady and stable profits.
The Birdsboro project, however, will be the first time for Sojitz to involve itself in a power plant investment with no long-term sales contract. Under this "semi-merchant" or "quasi-merchant"*3 scheme—quite common in the U.S.—investors secure a certain percentage of the revenue within the first 3-4 years and are then able to lock down a fixed profit by renewing the contract each year. "While that kind of scheme brings its own risks, it also yields higher profit than a long-term sales contract. It's the first time for Sojitz to try this kind of business, covering a wider area and encompassing a business scheme which is completely new to us," explains Takuji Asano, General Manager of the Power Project Dept.
| | |
| --- | --- |
| *3: | Essentially, this system allows companies to receive a fixed amount of investment support in the open energy trading market. See box for details. |
What is the "Semi-Merchant" Market?
The wholesale energy market has created a system (the capacity revenue system) whereby companies can secure a fixed amount of revenue based on the annual generating capacity to which they commit—regardless of how much electricity they actually generate. Excessive market liberalization in the past led to large-scale blackouts. In response, the PJM market became the first to introduce this system in 1999, as an incentive to encourage investment in new power plant construction.
Initiatives Starting from the Current Medium-term Management Plan
Why did the Power Project Dept. set their sights on the U.S. market in the first place? Sojitz already had a long track record with power plant businesses in Southeast Asia and the Gulf States, but the Infrastructure & Environment Business Division's current policy calls for departments to create businesses in new regions and new industries. While work on the current Medium-term Management Plan continued, they started to investigate whether there were any opportunities for infrastructure projects in the U.S.
"It goes without saying that the U.S. represents a huge market—and one with policies already in place. Additionally, a visit to local areas quickly reveals that the country is in desperate need of new infrastructure. Both bridges and roads are showing their age. The highways are full of potholes. And the power plants are old. They are still using the same power plants that were built during the golden age of American energy in the 60s and 70s. It's a real shame given the considerable demand for new power plants. In that sense, Birdsboro truly stands at the crossroads of efforts to fix American's infrastructure and the country's shale gas-based energy revolution," says the Power Project Dept.'s Hachiman Yokoi.
Largest Ever Investment in an IPP Project
As the first such effort for Sojitz, all of those involved with the project started studying to better understand the "semi-merchant" scheme. They spent hours on preparatory work as well, since they needed to fully analyze the risk inherent in semi-merchant model. Studies began 1-2 years in advance, with the team finally narrowing it down to six possibilities last September. The department carefully examined each of these opportunities in order, making buyout offers in turn. This process involved much more than theoretical projections; costly legal advisors and accounting consultants were hired to help realize the project.
"We only began the study for this project in October, with us managing to close the deal on a very tight schedule. In addition to being the largest investment project in the history of our IPP business, it was a monumental undertaking in the sense that this was the first time for Sojitz to try this business model and that it represented a new challenge for us on U.S. soil," says GM Asano.
Working as a Taskforce
The Power Project Dept shed its previous sectional framework in favor of a new taskforce-based structure, and since last July, its taskforce members have been seeking out new, high-potential projects which can bring in new revenue early on. This project is a result of the department's success at utilizing these taskforces. Of course, that's not to say the project would be here without the quick and agile support of the corporate departments like Legal and Structured Finance, or the support of Sojitz Corporation of America's many departments.
Shu Takeoka says, "It was an extremely packed six months. We had mostly handled EPC contracts for projects in the Middle East up to that point, and this was in a whole different league in terms of contract size. The range of things we had to study, including the EPC material, made it difficult. Another big difference is that the timeline for the project stretches over decades, unlike the one-off construction projects we were accustomed to."
Section 1's Takuya Shimizu adds, "I feel incredibly lucky to be involved in a huge opportunity like this only a year after transferring to the team."
Contributing to the Next Medium-term Management Plan
Starting last fiscal year, the Infrastructure & Environment Business Division has dispatched one person to the New York office as a strategic resource in their efforts to expand this project and other businesses in the U.S. market. Similarly, the division is also planning to dispatch several more strategic personnel, primarily to Southeast Asia and India. As the first new project in many years which can contribute in a substantial way to the goals of the next Medium-term Management Plan, the division hopes to channel this momentum into receiving subsequent orders in the days ahead.
"President Sato is always emphasizing speed as essential to management. As a first-time project for us, there were many twists and turns in fixing the investment internally, but I believe that our progress on this project ultimately reflects the speed of our management," says GM Asano.
The Inspiration for a New Market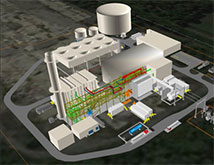 Concept image
The development of shale gas reserves is taking off around the world. President Trump's election has also spurred the development of new infrastructure in the U.S. Both of these trends are reflected in the Birdsboro project.
As more coal and nuclear power plants have been decommissioned, the PMJ market's expectations for new electricity sources have grown. The Birdsboro plant utilizes state-of-the-art, highly energy efficient equipment to provide a stable source of electricity with minimal impact. In this way, the project aims to help stabilize America's electrical infrastructure. Furthermore, the team hopes to ensure profitability for the project by procuring cost-competitive natural gas from America's Utica and Marcellus shale gas fields, the world's two highest producing sources of shale gas.
This project remains Sojitz's first investment into a large scale power plant in North America. As expectations mount for investment in power projects and other large-scale infrastructure in the U.S., Sojitz plans to continue to actively work on power generation in the U.S. based on experience gained in the power and energy field.
GM Asano ended the interview saying, "The semi-merchant model may find its way into the Japanese market in the future, and we hope to use this project as an opportunity to pioneer a new market in Japan. There are also open energy markets in other countries including Australia, Singapore, Turkey, the U.K., and Mexico, to name a few. Leveraging this project, we will seek opportunities to apply this expertise to other similar businesses, while fully investigating each country's particular situation. This connection to future business truly speaks to the project's significance."
A Word from Mindy-Ann Allen – Legal Department, Section 2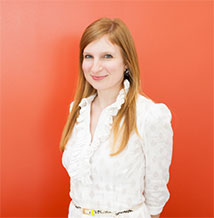 I was really lucky to work on such a challenging and interesting transaction from its inception, shortly after I joined Sojitz. As an American, I am proud to have helped Sojitz invest in such an important project in my home country, and as a US lawyer, I was glad to use my knowledge of US law and prior experience on US power deals to be able to assist the business team. I was really impressed by the diligence of the business team in tackling a new market that operates on a different model from that of Sojitz's prior power investments (quasi-merchant as opposed to long-term PPAs), and look forward to supporting the team on future endeavors.
Members of the Power Project Dept. Involved with this Project