Source: Shin-Mutsu-Ogawara Inc.
On May 11th, 2017, Sojitz completed construction on a solar power plant in Rokkasho, Aomori Prefecture. The Rokkasho plant is Sojitz's largest power plant project to date, boasting the fourth largest installed capacity in Japan (71MW.) This generation capacity can supply electricity to up to 13,300 households. Construction on this large-scale project was carried out over three years by 66,000 workers, and it entailed the installation of 270,000 panels. While the road to completion and start of commercial operations was long and arduous, it was clear the Sojitz staff behind this project were attempting to implement a major strategy in light of coming trends.
From Germany to Japan
Sojitz first entered the solar power business in 2009. At the same time, global awareness regarding environmental issues was beginning to spread, such as the need to reduce carbon emissions amidst economic growth in developing countries like China. In the same year, then Prime Minister Yukio Hatoyama made a pledge at the U.N. Summit on Climate Change to reduce carbon dioxide greenhouse gas emissions by 25% by 2030. Sojitz entered the solar power business not in Japan, but in Germany—a country considered to be a leader in the renewable energy industry with an established feed-in electricity tariff system in place.
In 2009, Sojitz and major Germany solar power company Wirsol Solar AG established a solar power plant (3M) in Betzweiler, and in 2011, Sojitz began operation of the Mixdorf Solar Power Project (24MW), acquiring expertise and knowhow in the process.
After the Great East Japan Earthquake and Tsunami on March 11th, 2011, Japan's nuclear power plants were shut down. Japan was then forced to review its energy policies in favor of safe, clean energy sources. As a result, Japan implemented the Act on Special Measures Concerning Procurement of Electricity from Renewable Energy Sources by Electricity Utilities in 2012, which introduced the Feed-In Tariff Scheme for Renewable Energy as a basis for promoting solar power. Sojitz did not overlook this opportunity in the domestic market, entering the mega solar business in Japan in August 2013.
Construction of 5 Solar Power Plants within a Short Time Span
Sojitz began commercial operations at several of their domestic solar power plants, starting with a plant in Koshimizu-cho, Hokkaido Prefecture in October 2014; Kuma-gun, Kumamoto Prefecture (12.8MW) in December 2014; Chita-gun, Aichi Prefecture (12.9MW) in October 2015; Iizuka, Fukuoka Prefecture (16.7MW) in September 2016; and now another plant in Rokkasho, Aomori Prefecture (71.0MW.) There are plans for several new power plants to begin operations within Japan, as well.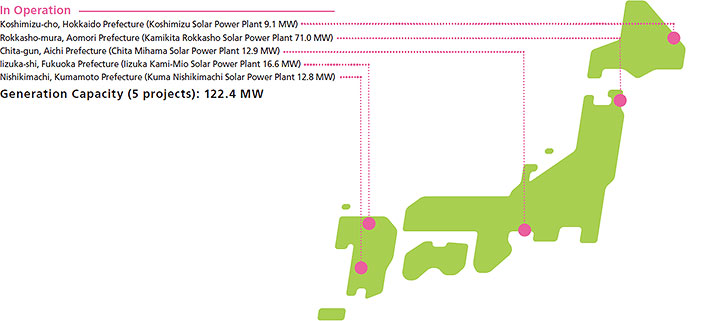 In Japan's solar power industry, the price of electricity is fixed for a 20-year period. Fuel costs are zero, and maintenance can be covered by two part-time workers. In other words, the only variable to impact this reliable business model is the amount of solar radiation, and sufficient radiation can be largely ensured according to data from the meteorological agency. The Medium-term Management Plan stresses the need to secure stable sources of earnings that are not easily affected by the market or external environmental conditions. The solar power business is a prime example of this type of stable business.
Sojitz Members Involved in the Project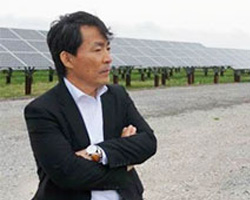 General Manager Yuji Yuasa,
Infrastructure & Environment Business Division, Environmental Infrastructure Dept.
Sojitz has come a long way since it first entered the solar power business back in 2009. There is no question that our experience in Germany was instrumental; it's unlikely we could not have come as far as we have without it or if Sojitz had acted independently. I believe we were able to swiftly take advantage of solar opportunities and expand the business thanks to the experience and knowledge the members of our corporate departments.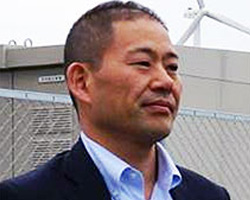 Section Manager Koichi Miki,
Environmental Infrastructure Dept., Renewable Energy Sect. 2
One thing that was particularly difficult was reflecting the project finance component in property lease contracts and EPC contracts. Another challenge (outside of contracts) was dealing with concerns from the neighboring wind power plant about how the birds that might gather on our electrical lines could potentially collide with the windmills. Ultimately, we decided to move the power lines underground. We also had to make adjustments with the electricity companies in terms of the system capacity of the power lines. All in all, there were a number of obstacles to surmount in making the business a reality. We were able to clear these hurdles with the innovative ideas and cooperation of our staff.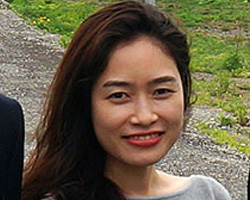 Mika Fukuya,
Environmental Infrastructure Dept., Renewable Energy Sect. 2
When I entered the company in 2012, Japan's solar power business was just taking off. At the time, we only had 10 members, but our numbers have since tripled. Our business and organization has grown, and it is impressive to see a huge power plant like this in action.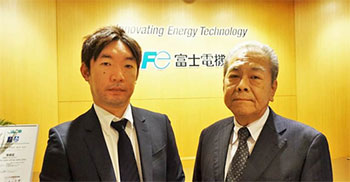 Manabu Kamada (left) with Mikio Sato
Fuji Electric
Manabu Kamada and Mikio Sato (Sales representatives for the Project)
"Solar power projects like this were still new for our company at the time, and it was a big deal to be taking on EPC for such a large-scale, 71MW generating capacity project like this when we had no previous experience. The project had a profound effect on us, as everyone on the team came to pour the entirety of their experience into its completion--from trekking out to the 150ha field together with Sojitz to conduct the on-site survey, to the wisdom gained from our technological division and other related organizations both inside and outside Fuji Electric. It feels like just yesterday that we were debating the proper height and angle of the mounts to minimize the impact of snow and maximize generating capacity, as well as conducting our test of the mount sample over the winter. Our company will continue to fully utilize the power plant and electrical conversion technologies we developed through this project to contribute to the spread and development of renewable energy together with Sojitz."
Mirai Power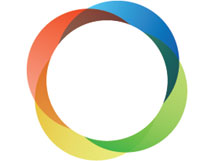 All Sojitz solar power plants are all under the Mirai Power brand. Mirai Power is a name that was inspired by the idea of achieving a prosperous future (mirai) through the power generation business. Each color used in the logo's ring represents an energy sector—solar, thermal, wind, and biomass power—indicating Sojitz's commitment to pursuing a balanced mix of renewable energy businesses for the realization of a prosperous future that benefits both the environment and the economy.
GM Yuasa on the Future of the Solar Power Business
While we already have operations in Peru and Germany, we want to leverage our domestic experience and apply it to future projects overseas. We also hope to go beyond solar power into new areas, including wind power and biomass power.
In June 2017, Sojitz announced a solar power plant project (98MW) in Chile. The mega solar business in Japan is only one milestone on the path towards using our accumulated experience and knowhow to accelerate our expansion overseas.