Bird's-eye view of the Tangguh LNG plant. This final investment decision will add a third LNG process train to the empty lot seen on the left-hand side of this photograph.
Sojitz has long been a proud pioneer in the field of LNG.
A final investment decision was recently reached on a plan to expand the Tangguh LNG project in Indonesia, with Tangguh now projected to continue contributing to longterm profits over the next 20 years. Indeed, the project embodies the "expanding foundations for stable earnings" mentioned in the growth strategy.
July 1st, 2016
There's not a frown in sight as the group lets out a resounding "cheers!"
Today, the Tangguh LNG project consortium—of which LNG Japan is a member—announced their final investment decision with project operator BP (the UK-based, top-tier energy company) for the expansion of the Tangguh LNG project in Indonesia's West Papua province.
Kenichi Ushio, General Manager of LNG Japan's Gas Business Dept. 3, has invited the 15 or so members who struggled alongside him to a restaurant near the office to celebrate their success on this project.
A Powerful Project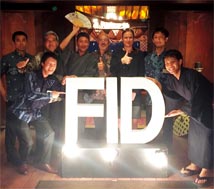 The FID Celebration party held in Jakarta
"I'm not sure I've ever tasted anything better than the beer we drank that day," says Gas Business Dept. 3's Hiroshi Suzuki, reflecting on that day.
Gas Business Dept. 3 Manager Takuya Hasegawa says smiling, "I feel really lucky to have been involved with the Tangguh project."
Nissho Iwai, one of the companies to which Sojitz traces its DNA, was a pioneer in the LNG industry. They held a solid position in the LNG industry for over 40 years starting in the 1970's, backed by their wide-ranging experience and network.
The Tangguh LNG project's gas comes from a high-quality gas field discovered in 1994, inside a bay in West Papua. Nearly 4,200km due south of Japan, the peninsula is referred to as the "Bird's Head" for its unique shape. It was christened "Tangguh" (Indonesian for "powerful") in 1997 by then President Suharto, who positioned it for high-priority development as an LNG project. Nissho Iwai joined the project in 1999.
In 2001, Nissho Iwai and Sumitomo Corporation established LNG Japan as a fifty-fifty joint venture. LNG Japan then increased their equity ownership of the Tangguh LNG project in 2004, and started construction of production facilities the following year. They began to produce LNG in 2009. After 15 years of gas field development, the start of production saw Tangguh becoming a strong-performing project whose stable operations would continually contribute to earnings.
"Tangguh has over 15 trillion cubic feet of recoverable natural gas reserves. One trillion cubic feet of natural gas can provide an LNG yield of 1 million tons per annum for 20 years. LNG imports to Japan are estimated at 85 million tons annually. It's the perfect gas reserve," says Hasegawa proudly.
The plan to expand the project adds a third LNG process train to the existing two, increasing the current 7.6 million ton LNG production capacity by an additional 3.8 million tons. The train is expected to begin production sometime in 2020. In addition to the liquefaction facilities, the expansion will add two offshore platforms to bring up more gas from the gas field, a new LNG jetty for shipment purposes, and 13 new production wells.
Connecting the Dots
The project consortium consists of seven companies. The list is headed by the operator BP, with the Japan side boasting such powerhouses as JX, Mitsubishi Corporation, INPEX, and Mitsui & Co. Add a Chinese state-owned enterprise and a Spanish company, and you have the kind of enormous expansion project which could not have been pushed forward without a unanimous accord between all parties.
If you include LNG Japan's shareholders Sojitz and Sumitomo Corporation and JBIC, the company financing the new plant construction, then the number of related companies rises to more than 20. Working out an agreement between all these companies was a long-fought struggle.
"If you don't understand the entirety of the project, you can't say whether the plan is economically feasible. There were also the individual circumstances and demands of each company to take into account—not to mention the time it took to get approval from the Indonesian government for the financing structure. This is why we had to hammer out a contract in the short time between the decision on the financing structure and the investment decision. It was a lot of work for all parties involved," says Yoshihiro Ushioda, one of the staff in charge of financing for Gas Business Dept. 3.
"One of our most important duties is to correctly understand the situation and provide feedback to shareholders. We ran into a hard time parsing the multitude of abbreviations BP used in the agreement," says Suzuki, as the man in charge of upstream development and plant projects for the department. He has been involved with putting the finishing touches on the project since February, 2016.
On the other hand, Gas Business Dept. 3 Manager Koichiro Kosugi, who headed up marketing for the project, puts it this way: "We concluded a long-term 20-year agreement where, of the 3.8 million-ton increase in annual production achieved through this project, 1 million tons will be sold to Kansai Electric Power and 1.5 million tons will be sold to PLN, a state-owned company in Indonesia. By 2016, however, we still hadn't found a buyer for the over 1/3 remaining supply (1.3 million tons). The liberalization of the electric power industry in Japan has unfortunately led to competitive pricing, and Japanese power and gas companies seeking to purchase LNG at considerably lower prices. It made the expansion project economically unfeasible. Without a final buyer for that remaining supply, we would not be able to receive the financing we needed. As the deadline for the expansion project drew closer, PLN suddenly decided in April to purchase the entirety of the remaining supply, finally giving us the buyer we needed."
All work on the expansion project is proceeding simultaneously, including gas reserve confirmation, upstream gas field development, upstream facility development such as the offshore platforms, onshore liquefaction facility development, financing agreement negotiations, and work to secure LNG buyers.
"All the dots fell into place to make a beautiful line leading up to the final investment decision on July 1st. It's a testament to the efforts made by all parties related to the project, including the two shareholders," says GM Ushio with a smile beaming across his face.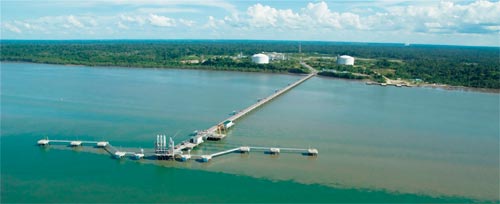 The LNG plant as seen from sea level
LNG Japan took on a frighteningly heavy burden in trying to coordinate the project under such time constraints, but thankfully all of the parties related to the project came together to help lift their share. They were driven by a sense of calling. While they were of course aiming to maximize corporate revenue, this aim was underpinned by a strong desire to contribute to Indonesia's growth and provide a stable source of energy to resource-deprived Japan. The project will now continue to provide LNG to Japan for the next 20 years and create 10,000 jobs in Indonesia, even during the new facilities' construction. This would not have been possible without the cooperation of LNG Japan's staff, who never let go of this colossal dream.
Vision for the Future
Offshore platform at sunset
"Next is going to be a new project." All the team members seem to unanimously share this vision for the future.
Energy development can take decades. It's the kind of business that takes a dizzying amount of time and effort, to the extent that some members would be lucky to establish even one more new project by the time they retire.
The Tangguh gas field was discovered in 1994 and is just now getting its third LNG process train. The train will begin production and operation in four years' time, during the same year as the Tokyo Olympics. This expansion project has only just left the gate. Expectations are high for this project, which will continue to contribute to long-term profits over the next 20 years.
"Closest I've Come to LNG"
An LNG tanker
Despite being this hard-fought of an LNG project, none of the members have seen or felt the LNG they handle.
Natural gas is colorless and odorless. In order to make it easier to transport, the gas is chilled to -162℃ and liquefied. This reduces the volume to 1/600th of its natural state, enabling transport via LNG ship. LNG ships are enormous tankers measuring roughly 300m in length. Construction costs for a single ship are estimated at around JPY 20 billion, with each one able to carry approximately 65,000 tons of LNG.
"When loading LNG on the tanker, the -162℃ liquid gradually causes the ship's piping to frost over. That's the closest I've come to LNG," says Suzuki. GM Ushio adds, "When you unscrew the gas valve in your home kitchen to light the stove, that gas may have come from one of our shipments."
LNG Japan Staff on the Tangguh LNG Project