On March 29th, Sojitz Insurance Agency Corporation (SOINS) held its 70th anniversary reception at Tokyo Headquarters. The reception was a grand affair with around 120 attendees in total, including Sojitz President & CEO Masayoshi Fujimoto and CFO Seiichi Tanaka, SOINS executives and employees, and representatives from other major general insurance firms.

In his remarks, Sojitz Insurance President Toru Takahashi stated, "Our company's greatest assets are the experience and know-how we've cultivated as part of a general trading company group, our staff members—who are true insurance professionals, and most of all, the partnership that exists between us, an insurance company, and our customers." He also pledged to achieve even greater successes as the company looks forward to welcoming its 100-year anniversary.

During the reception, screens displayed a timeline showing the history of SOINS, and all the attendees enjoyed pleasant conversation in a relaxed atmosphere.

SOINS was formed in 1949, shortly after WWII, and boasts the longest history of any insurance agency belonging to a general trading group. Based on its extensive know-how and successful business record in both the domestic and international arenas, it offers insurance solutions to cover all manners of risk for corporate and individual clients, both inside and outside of Sojitz Group. SOINS and its staff will strive to continue meeting the varied needs of all its customers as true insurance professionals.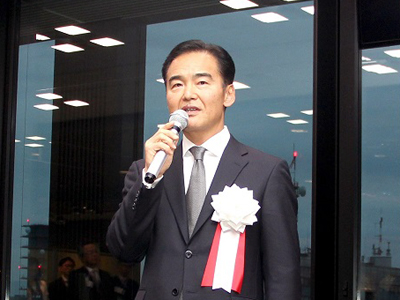 SOINS President Toru Takahashi speaks.




Cheers to 70 successful years!