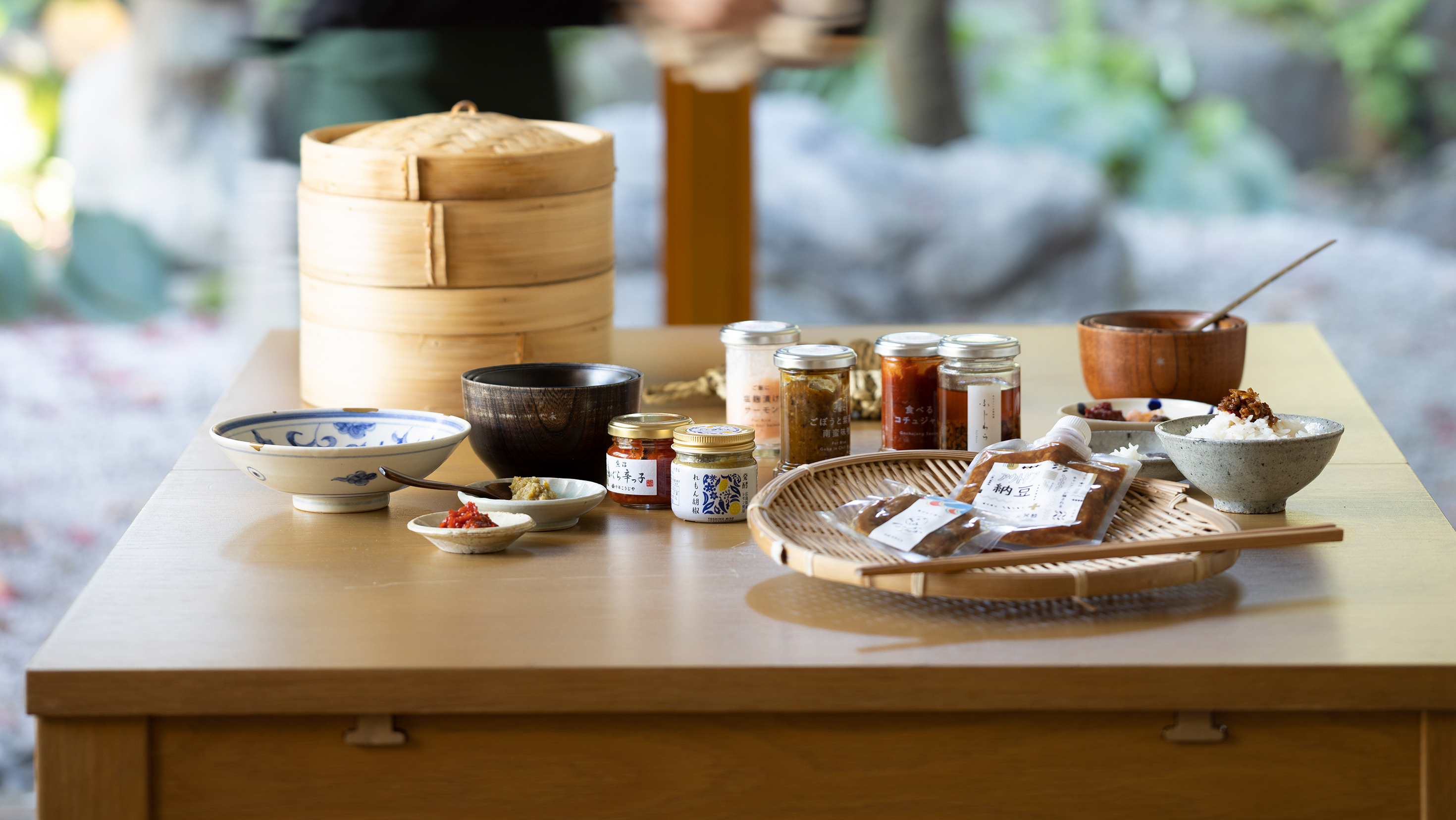 Fermentation is a process cultivated over centuries in Japan that defines the country's food culture. But what are fermented foods? To break it down: Fermented foods are processed with microbes such as lactic acid bacteria, Aspergillus oryzae (koji mold), and yeast, which ferment the protein and starch of soybeans, rice, fish, and meat to create an umami-rich food. In addition to preserving foods and contributing umami flavor, fermented foods can also boost immunity and provide other internal health benefits. Fermented foods have been getting more attention as health awareness increases. In this article, we introduce 6 fermented food products that can easily be used in winter hot pots or as an accompaniment to rice.
* Shipping for all products limited to Japan.
* All links are for Japanese-language websites.
Text_Miwa Kinoshita (Original Japanese)
Photograph_Kaoru Yamada
Edit_Shota Kato (Original Japanese)

A refreshing zest of flavor to stimulate the appetite
Fermented Lemon Pepper
Founded in 1917, the Yoshino Miso Brewery has been creating seasonings for generations in Hiroshima's Kure City that perfectly balance spicy flavors with refreshing citrus scents. Whole, juicy Hiroshima-grown lemons are used to make Fermented Lemon Pepper, including everything from the lemon juice to the lemon peel. Spicy green peppers from Kyushu are then added along with the sophisticated yet subtle taste of Yoshino's traditional rice koji. In addition to the sour and spicy flavors, this product is packed with umami from the aged rice koji. Use this Fermented Lemon Pepper as a seasoning for hot pots, simmered and chilled tofu dishes, and as a condiment for meats. The saltiness of lemon pepper makes it the perfect substitute for soy sauce in dishes such as gyoza dumplings or sashimi—just add a spoon of Lemon Pepper. Similar to the popular yuzu pepper, this product deserves attention as a new spice seasoning. Fermented Lemon Pepper is available at Nippon Department Store, which is operated by Sojitz Group company Tri-Stage Inc.
Fermented Lemon Pepper (80g)/ 567 yen (tax-inclusive price/Nippon Department Store) 

A secret recipe for Nukazuke (rice bran pickled fish) passed down for over three decades
Mini Sliced Mackerel
In the Kanazawa dialect, nuka (rice bran) is called "konka." These konka pickles developed as a way to preserve fish caught in the Hokuriku region in the days before refrigeration and freezing technologies. While few households still make their own fermented fish, konka pickles remain a local favorite in the Hokuriku region. Kanazawa Konka Konka only produces a small quantity of pickles that captures this traditional homemade flavor. Fresh mackerel caught off the coast of Japan is carefully pickled for half a year on a bed of sweet and spicy salted rice bran that includes a special seasoning, the recipe for which has been passed down for over 30 years. The umami of the fatty mackerel and well-mellowed aroma of the nuka (rice bran) provides just the right combination of saltiness to increase your appetite for sake and rice. Eat the pickles on their own to enjoy the savory roasted aroma of the fish.
Mini Sliced Mackerel (20g) / 380 yen (tax-inclusive price/Nukanoya) 

A deliciously spicy seasoning made with a traditional vegetable grown in Uonuma
Kagura Karakko
Niigata Prefecture's Uonuma City is renowned for its rice and sake. As a region with heavy snowfall, Uonuma's local cuisine is deeply rooted in the long-practiced wisdom of preserving and fermenting foods. Kagura Karakko is a spicy condiment made using a traditional local vegetable called kagura nanban that is fermented with rice koji (rice malt) and salt. Kagura nanban is a type of chili pepper that resembles a bell pepper in appearance and is characterized by its mild spiciness. The kagura nanban peppers are finely chopped and mixed with salt to cure for a period of time. The peppers are then aged with rice malt for two and a half years. While the bright red color suggests spiciness, there is a surprisingly deep umami flavor to rival the spice. Enjoy Kagura Karakko in a variety of dishes, such as hot pots and noodle dishes, or add the condiment to vegetables lightly pickled in salt or rice bran. 
Kagura Karakko (80g) / 670 yen (tax-inclusive price/Sennen Kojiya) 

A new type of portable natto
Outdoor Natto
The portable natto pouch was invented by Hiraku Ogura, a designer of fermented foods, in collaboration with two establishments—Yamagomiso(a miso brewery founded 150 years ago in Kofu City, Yamanashi) and Purveyors (a store built on the concept of outdoor adventure in Gunma). The natto is made using soybeans fermented at room temperature with pickled bream koji, soy sauce, mirin, and konbu. Layers of umami are packed into this natto, and the depth of flavor makes natto sauce packets and mustard unnecessary. One convenient aspect of this product is that it does not need to be mixed by hand like traditional natto products. True to its name, "Outdoor Natto" is perfect for outdoor activities like camping or barbecues. Add the natto to rice balls or sandwiches, or to flavor yakisoba noodles. With a resealable cap, this squeezable pouch of natto is a revolutionary product that can be carried everywhere. 
Outdoor Natto (180g) / 864 yen (tax-inclusive price/Yamagomiso)

Elevate classic dishes to the next level
Natto Chili Oil
Nao Fujiwara is a culinary expert who creates jarred seasonings with the mission of making home cooking simpler and more delicious. Natto Chili Oil is made with a sesame oil base and finely chopped ground natto. The richness of the natto has a complex umami flavor that exudes spices such as Szechuan peppers and Chinese cinnamon with an aroma reminiscent of Taiwanese cuisine. Natto Chili Oil can be drizzled on cooked vegetables, added to pork shabu hot pot and tofu stew, or used as a dipping sauce for tuna and other sashimi. You only need a bottle of Natto Chili Oil and a steaming bowl of rice to enjoy an exquisite meal. Fujiwara recommends adding the oil as a final topping to mabo tofu. Natto Chili Oil is very versatile, and you can count on it to elevate everyday dishes to the next level.
Natto Chili Oil (105g) / 1,404 (tax-inclusive price) / Atarashi Nichijyoryori Fujiwara

A new wave of pickled delicacies
Pickle Set to Pair with Rice
10%Iam is a next-generation pickle brand based on the concept of living harmoniously with fermentation microbes. This brand was born in Shiga Prefecture's Takashima City, which is being revitalized as a "fermentation city." The brand sees the fermentation process as "cooking by microorganisms" and 10%Iam products are attracting attention for their innovative new food combinations and versatility. This pickle sampler offers a selection of three popular pickle products that can be enjoyed with rice. The set includes: Salt koji salmon, a gentle flavored pickle created with mirin and konbu broth; Burdock root and shiso nanban miso made with Japanese-grown green peppers, which has an addictive sweet and spicy taste; and Edible Gochujang that is made without sugar but has a mild sweetness from fermented malt and rice koji. No need to heat up the Edible Gochujang as it's best eaten straight from the jar.
Pickle Set to Pair with Rice (85g/each) /3,186 (tax-inclusive price) /10% I am
INFORMATION
Nippon Department Store
Nippon Department Store Inc. is operated by Sojitz Group company Tri-Stage Inc. An enthusiasm for Japan and its people inspires the specialty shop's selection of delightful products from across Japan. The store's concept is to add intrigue to the traditional Japanese department store. Nippon Department Store aims to communicate the variety of Japan's vast repertoire, marketing products from a unique angle that values the people, spirit, craft, and culture behind each product. Nippon Department Store showcases the new and the old, the expensive and the inexpensive, the sophisticated and the random, the serious and the silly, the ordinary and the extraordinary, the fashionable and the functional. The stores offers a variety of fun products to color daily life, and Nippon Department Store's online shop is popular for its humor-filled articles. The company also operates eight shop locations in Tokyo, Saitama, and Chiba.